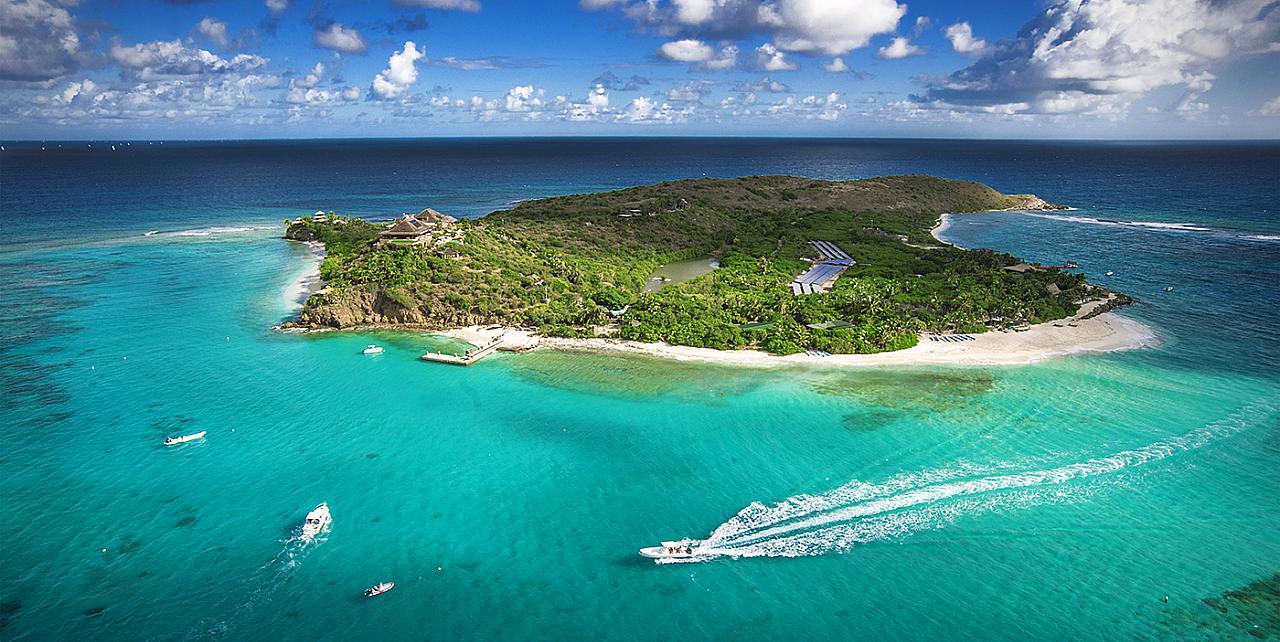 Add to Favourites
From $113,000 USD - $140,000 USD / nt
Plan Your Trip
HAVE QUESTIONS?
USA/CANADA: +1 347 707 1195
BARBADOS: +246-432-6307
UK / INTERNATIONAL: +44 1978 368531
From $113,000 USD - $140,000 USD / nt
Necker Island is the perfect private island paradise, located in the British Virgin Islands and surrounded by the clear turquoise waters of this tranquil, unspoilt area of the Caribbean. The island expands over 74 acres with beautiful white sandy beaches and coral reefs, guests can hire the whole island on an exclusive basis for 40 plus six children in the bunkroom In addition at certain times of year Necker Island offers their Celebration Weeks, this is ideal for couples or singles, who can reserve one room individually and take full advantage of the services the island has to offer, shared with other guests, "house party style."
For the families, Necker Island provides a 'Family fun week' during October, which is a great chance to have some fun with the children. The organise boat races around the island, tennis tournaments or beach Olympics with egg and spoon races. Then in the evening children have their own adventures, with a Pirate of the Caribbean treasure hunt and beach BBQ's feast.
Necker Island includes eleven bedrooms in the Great House and nine individual Bali Houses dotted around the island. There is also a bunkroom in the Great House that sleeps up to six children. All rooms have private en-suite bathrooms. .
The Great House:
This spacious al fresco style Balinese villa boasts amazing panoramic views of the Caribbean, the Atlantic and neighbouring islands.
There are eleven guest rooms in the brand new Great House, almost all of which have a balcony and all come with king-size beds and en-suite bathrooms. On the upper level you'll find the Master Suite, complete with private outdoor Jacuzzi and outdoor bath.
All rooms have king size beds which can be split into twin beds in most cases and all rooms in the Great House are fully air-conditioned.
The Great House is the place where people come together, and has an expansive outdoor terrace with hammocks and sofas. There's a state-of-the art kitchen where the resident chefs prepare their famous dishes and a large dining table for everyone to gather round to enjoy their meal. There is also a fully-stocked bar where the team can make you your favourite cocktails, or you can just help yourself! For a bit of fun there's also a snooker table, piano, lots of comfortable sofas and cushions, an entertainment system with a large range of CDs and DVDs, and guest computers with internet access.
Up on the roof you'll find a cosy four-person Jacuzzi – perfect for sipping champagne as you watch the sun set.
The Bali Houses:
These nine beautiful private houses are built in authentic Balinese style and each can accommodate a couple and both Bali Beach and Bali Buah can be split into twins.
Some of the Bali Houses are split levels complete with a meditation room. Bali Hi, Bali Cliff and Bali Beach are built on a cliff in order to maximise views, sea breezes and the sounds of the sea. They are nestled together with one shared plunge pool but all with private en-suite bathrooms. Bali Cliff has a stunning fully open-air bathroom. Bali Beach as you might expect overlooks the beach!
Bali Lo, Bali Buah and Bali Kukila are built in the middle of the island and boast wonderful views with a large private pool. All Bali Houses have home entertainment systems with iPod docking leads and all are fully air-conditioned.
Golf buggies (mules) are provided for guests so they can drive to and from their Bali House to explore other areas of the island or for the more energetic guests try the 2-hour walk around the Island to view the flora and fauna.
There are several choices to relax on the beach and enjoy the sea, but the main Beach area is where the water activities are based, plus the Tennis and Beach Pavilion.
The Beach Pavilion
Has one of the most stunning freeform infinity pools, with a swim-up bar complete with rocks in the pool and a stunning waterfall. Within the pool complex is the thatched Crocodile Pavilion, complete with a large solid teak crocodile table where guests can be served fresh food from the Pavilion's gourmet kitchen.
The Tennis Pavilion
Has two floodlit courts and a viewing pavilion. Equipment is provided, although enthusiasts may wish to bring their own. There is also a professional tennis coach who is normally resident at Necker Island for those who wish to perfect their game and maybe arrange a tournament or two!
Water Activities
A large selection water-sport equipment is provided, enabling guests to take the opportunity and try a little kite-surfing, sailing, windsurfing, waterskiing, kayaking, power boat trips and much more. There is also snorkeling equipment or just take it easy and enjoy the views! There is a decking area with chairs for spectators and even a hammock. Highly qualified instructors are on hand and very eager for guests to try all the fun sports available.
Spa Treatments - Bali Samudra
What a perfect place to be pampered by the fabulous range of treatments, enjoy beautiful ocean views, or just close your eyes and drift away to the gentle sounds of the sea. Beauty therapists provide a great range of treatments that can be taken in the stunning spa or many treatments can also be taken in the privacy of your room or even on the beach. Treatments are charged as an extra, a list is available on request.
Pilates and Yoga
Classes can be arranged at various locations on the island. It's a great way to appreciate the island's spectacular sunsets. An extra charge may apply for this activity.
Island Walk
Necker is 74 acres in size with a 3-mile perimeter. There are a number of trails on the north end of the island which will take you around the coast or over the main ridge. Staff can take you on a guided tour and share some interesting facts about Necker, or simply point you in the right direction to brave it alone!
Food & Drink
Guests at Necker Island with experience delicious fine food, which is the highlight of any stay, the rates are fully inclusive of all food and beverages, including champagne. The resident chefs prepare whatever the guests prefer, formal or informal, inside or out, themed or traditional from lobster and caviar to a traditional Sunday roast ! A fine range of international wines, top quality spirits, international beers and excellent house champagne is pre-stocked, but any special requests can be arranged, with plenty of notice (generally there is no extra charge unless the item is particularly rare or extra shipping is involved).
Children
Necker Island was designed by Richard Branson as his family's holiday home and his children spent many a school holiday there, so no surprise that Necker Island is a child friendly holiday location. There are plenty of choices to keep the children happy, a large range of children's DVDs, toys, books, games, all of water-sports and other activities such as treasure hunts or beach Olympics.
Celebrations
What a dream location for a wedding or a honeymoon on Necker Island, the ideal a Caribbean paradise. Celebration Weeks are ideal for couples celebrating a honeymoon, an anniversary, a birthday, or just want a romantic holiday as it is not necessary to hire the entire Island and the staff are happy to help mark a special occasion with fireworks, balloons, themed feast what ever the request be sure they will do their best to make it happen.
Rates include :
• Your accommodation
• All meals and drinks (including all alcoholic beverages)
• Return launch transfer from Virgin Gorda or Beef Island airports
• A dedicated team
• Water sports equipment including kite-surfing, wakeboarding, paddleboarding, sailing, snorkelling and even SCUBA diving, plus much more!
• Disco DJ included on one night during your stay
• Free Wifi throughout the island
• Boat transfer between Necker and Moskito Island (if accommodation is reserved on Moskito Island)
• BVI accommodation tax
LUXURY YACHT CHARTERS
Necker Belle the luxury 32-metre catamaran is available to charter for tailor-made itineraries around the Caribbean. With spacious common areas and four beautifully appointed main cabins, all with en-suites, Necker Belle is perfectly designed for fun and relaxation. So with the cool Caribbean as your playground, this world class super yacht with its crew of seven and fabulous Virgin service is a perfect choice for fun and relaxation on the high seas. more detials available on request.
See more details...
Special Offer(s):
FREE NIGHT OFFERS!
Stay on Necker Island on one of our Individual Stays dates for a minimum of 4 nights and enjoy your final night on us, or 7 nights and enjoy your 2 final nights on us!
Amenities
Spa
Short walk to beach
Shared Pool
WaterSports
TV
Tennis Court
Gym/Fitness Room
See more details...
Bedroom : 1 - 24
Staff
• A team of approximately 50 fabulous staff.
Rate
Bedrooms: 20 Bedrooms

| From | To | Min Stay | Nightly Rate | Weekly Rate |
| --- | --- | --- | --- | --- |
| 01-Jan-2023 | 31-Dec-2023 | NA | $113,000 USD | $791,000 USD |
| 01-Jan-2024 | 31-Dec-2024 | NA | $118,500 USD | $829,500 USD |
Bedrooms: 24 Bedrooms

| From | To | Min Stay | Nightly Rate | Weekly Rate |
| --- | --- | --- | --- | --- |
| 01-Jan-2023 | 31-Dec-2023 | NA | $134,500 USD | $941,500 USD |
| 01-Jan-2024 | 31-Dec-2024 | NA | $140,000 USD | $980,000 USD |
Rental rates are subject to 3.00 % TAX plus 2.50 % service charge.
20 Bedroom (Up to 40 guests) and 24 Bedroom (Up to 48 guests) rates based on Exclusive use of the Island. (except for dates shown below when individual rooms may be rented.)
Rates include:
• Your luxury accommodation in up to 24 rooms
• All meals and drinks (including all alcoholic beverages) – served in a variety of locations
• Return launch transfer from Virgin Gorda or Beef Island airports
• Water sports equipment so you can go kite-surfing, wakeboarding, paddleboarding, sailing, snorkelling and even SCUBA diving (additional charges apply), plus much more
• Free WiFi throughout the island

Rates exclude:
• A 2.5% service charge and a 3% BVI Hotel Accommodation Tax will be added to your bill. An optional 1% donation to our charity partner, Unite BVI, will also be added
• An environmental and tourism levy of USD 10 per person will apply to all guests visiting the BVI. The levy will be collected on arrival at the port of entry for those visitors arriving by sea or air. For further information, please visit www.bvitourism.co.uk

Rates also available for individual room rental for the following dates,
Call or message for availability or further information:
2023 Dates for individual stays:
23 - 30 September (adults only)
14 - 25 October
18 - 25 November (Thanksgiving)
11 - 20 December (minimum 5-night stay)

2024 Dates for individual stays:
18 - 25 May (adults only)
20 - 27 July
17 - 24 August
24 - 31 August
14 - 21 September (adults only)
21 - 28 September (adults only)
19 - 26 October
23 - 30 November (Thanksgiving)

Minimum stays may apply throughout the year, and supplements may apply over Thanksgiving, Christmas, New Year and Easter
Rates, taxes and service charges are subject to change without notice.
Location
Necker Island - British Virgin Islands