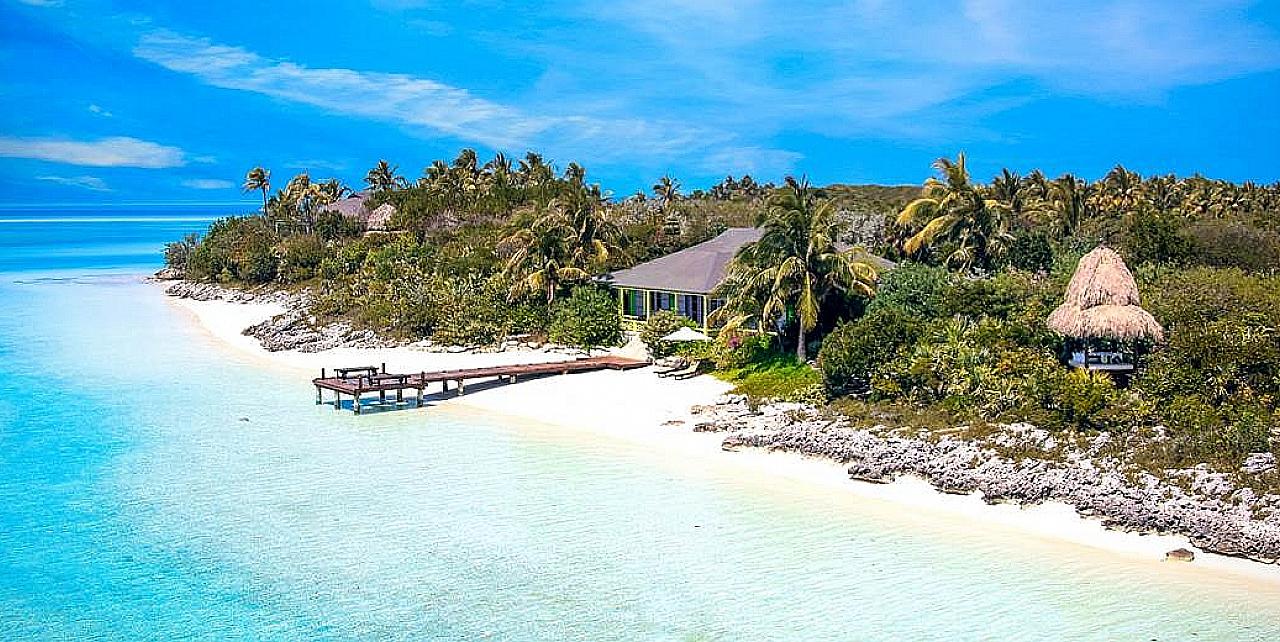 Add to Favourites
Plan Your Trip
HAVE QUESTIONS?
USA/CANADA: +1 347 707 1195
BARBADOS: +246-432-6307
UK / INTERNATIONAL: +44 1978 368531
Musha Cay in The Bahamas offers 12 bedrooms and 13.5 bathrooms located within 5 luxurious homes, each containing their very own private beach, spacious living and dining areas, and ultimate privacy. Accomodation at Musha Cay in The Bahamas varies from whimiscal to romantic and exotic, all decorated in unique colours creating a tropical island feel filled with treasures collected by its owner David Copperfield during his worldwide adventures. Each home is fully air conditioned and feature Wi-Fi, DVD and CD players, iPod docks, flat screen satellite TV, international phone service, and a butler service - what more could you want from such a beautiful private island. The Musha Cay homes are known as: High View, Pier House, Blue Point, Beach House, Palm Terrace.
High View - boasts a 360 degree view of Musha Cay and its ten uninhabited neighbouring islands, sitting at the top of Musha's highest Hill in 10,000 square feet of exceptional luxury. High View includes a soaring living pavillion, 2 grand master suites and a cozy hidden loft. In the grounds there are beautiful expansive gardens, a steam room, an outdoor fireplace for those romantic evenings and its own private beach.
Pier House - Is an artistically designed cottage sitting on 3,200 square feet of land. This cottage features 2 master suites and a large luxurious living and dining room. The front doors of Pier House open up gracefully onto it's own private beach, which also features a pier running straight into the endless ocean where the views can be appreciated.
Blue Point - Is a 3,200 square foot, 2 bedroom beach house, featuring 2 spacious master suites and a large living and dining area. Blue Point is perched on a rocky outcrop, encircled by a wide, shaded wrap-around mahogany porch located just seconds away from its own private beach.
Beach House - Is one of the most romantic homes out of all 5, perfect for a honeymoon couple. Beach House is an open air, 1 bedroom, thatched roof cottage on a secluded crescent shaped beach. This cottage is enclosed by a small gate, where a private beach unfolds inviting night time swimming under the stars or under the hot Caribbean sun.
Palm Terrace - Is set on 4,500 square foot of land, featuring 5 spacious bedrooms, perfect for a family sharing. There are 2 master suites upstairs and 3 additional bedrooms downstairs. Palm Terrace features a mahony wrap-around porch, and has a spacious living room overlooking the wonderful patio perfect for entertaining. Like all the houses at Musha Cay, Palm Terrace includes its very own private beach.
Musha Cay in The Bahamas is an exlcusive get away with 11 islands, 40 private sandy beaches offering endless dining opportunities, all within a 2 minute boat journey to whisk you away to a mile-long pink sand beach, or a romantic hidden cove or an uninhabited island, where your meal will be awaiting you. Alternatively, closer to home, there are many dining venues right on Musha Cay too. There is also the choice of a candlelit dinner over the sea, on a very special table set right on the Main Dock. The moon's reflections of the gentle waves surround you like sparkling jewels. A favourite spot for guests to enjoy a morning coffee of a celebratory dinner is at top of the stairs overlooking Musha's main dock, at the stunning glass-topped table, with windows at four sides.
There is also the option of beach dining under the wonderful soaring timbered roof at a hand-carved table fit for a kingly feast. With the sounds, scents and breezes of nature joining your other welcomed guests, Musha Cay's Balinese Beach Pavillion is the perfect venue for your gala banquet. Also an extraordinary spot for a daytime, open air lunch buffet, the Beach Pavillion can be enjoyed at any time of the day with its close proximity to Musha's swimming pool and one of many beaches. There is also the choice of enjoying the luxury of 'Dave's Drive-in Movie and BBQ Night' on the beach where you can sit back, relax and enjoy a film of your choice.
At Musha Cay there is an excellent 500 bottle wine cellar, a Sommelier for wine tastings can be arranged at an additional cost
A tennis professional, massage therapist, or a fitness, yoga or pilates instructor can be arranged for an additional cost.
See more details...
Amenities
Air Conditioned bedrooms
Air Conditioning
Beach Club Facility
Beach Front
Gym/Fitness Room
Satellite TV
Short walk to beach
Telephone
Tennis Court
TV
Waterfront
See more details...
There are many activities available for the adventure seekers -  Dave's Drive-in Movie and BBQ  - Snorkeling - Windsurfing  - Paddle boarding - Skimming the waters in sailboats, runabouts of wave runners - Island touring - Waterskiing  - Fishing - Goldfish or hermit crab races - Shell hunts - Daily arts and crafts  - Cave exploring - Tiki parties on the beachs    
Bedroom : 6 - 12
Bathroom : 13.5
Staff
• Chef - enhancing the freshest fish with fruit salsas from island-grown trees
• Butler
Rate
Rates on request.
Please call or message for rates, availability or further information
Location
Musha Cay, Bahamas - Copperfield Bay are just 90 minutes by air from Miami
• A 20 minute flight from George town Airport, or a 45 minute scenic boat ride