Villas for weddings in Anguilla
Are you looking for villas for weddings in Anguilla?
Anguilla is a dreamy island in the Caribbean Sea. A truly romantic island on which to get married.
We have some stunning villas for weddings in Anguilla. You can book them individually depending on the size of your wedding or you can book several of them together.
3 of the villas in our collection are owned by the same British owners and can be rented individually or together. They are ideal villas for events like weddings or large milestone celebrations.
Rental of any or all of these 3 villas comes with a great team on the ground. The team will provide whatever guests want.
We have a large selection of other villas for weddings in Anguilla so if you want to explore all options contact us today
Villa Indigo offers 10 bedroom suites. It is a stunning home with a gym and tennis courts. It is set in a lovely private and peaceful location.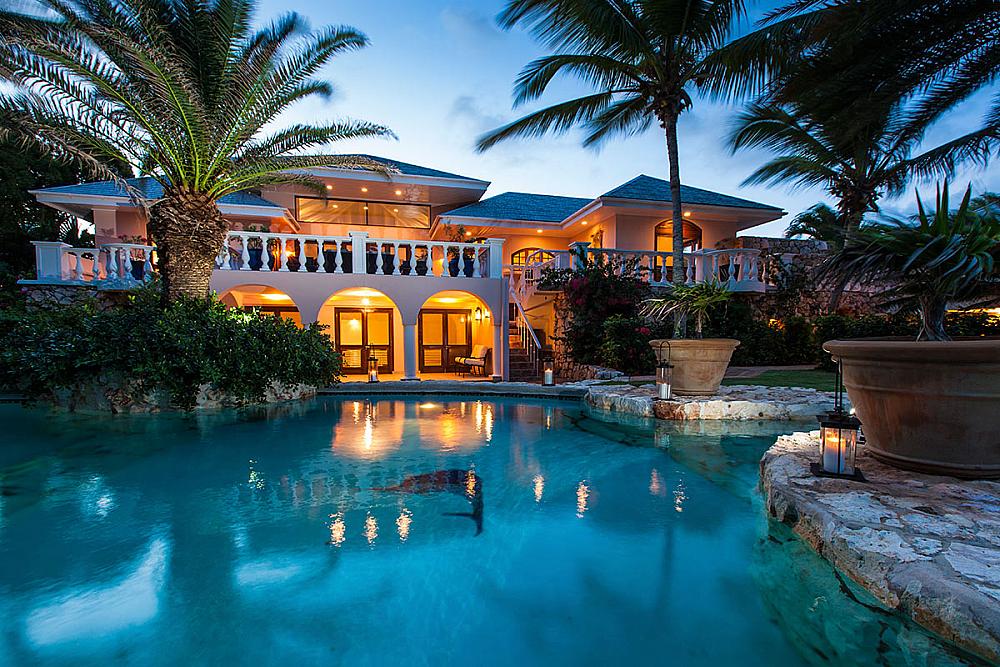 With it's distinctively modern , contemporary feel, Villa Indigo features fabulous service and amenities. It somehow manages to retain a warm and intimate atmosphere.
The indoor/outdoor living spaces take full advantage of the exceptional island views. Indigo also welcomes children. It is ideally suited for family gatherings, reunions, special occasions and weddings.
The accommodation consists of three buildings. These comprise the Main House, the Courtyard Garden House and Little Indigo. They are linked together through the landscaped gardens
Although the island is a quiet paradise there is still lots for guests of all ages to do. The team in Anguilla who look after these villas will take care of your every need.
Villa Indigo is happy to host weddings. It can be rented with Villa Le Bleu which is very close by. It may also be rented with The Beach House
Villa Le Bleu is an exciting and glamorous new luxury villa. It offers 10 bedrooms (all en suite) and is located in approximately 2.5 acres of beautiful tropical gardens. It has two swimming pools, two small natural beaches and a beach pavilion. There is also a tennis court, gym, personal cinema and beautiful water garden.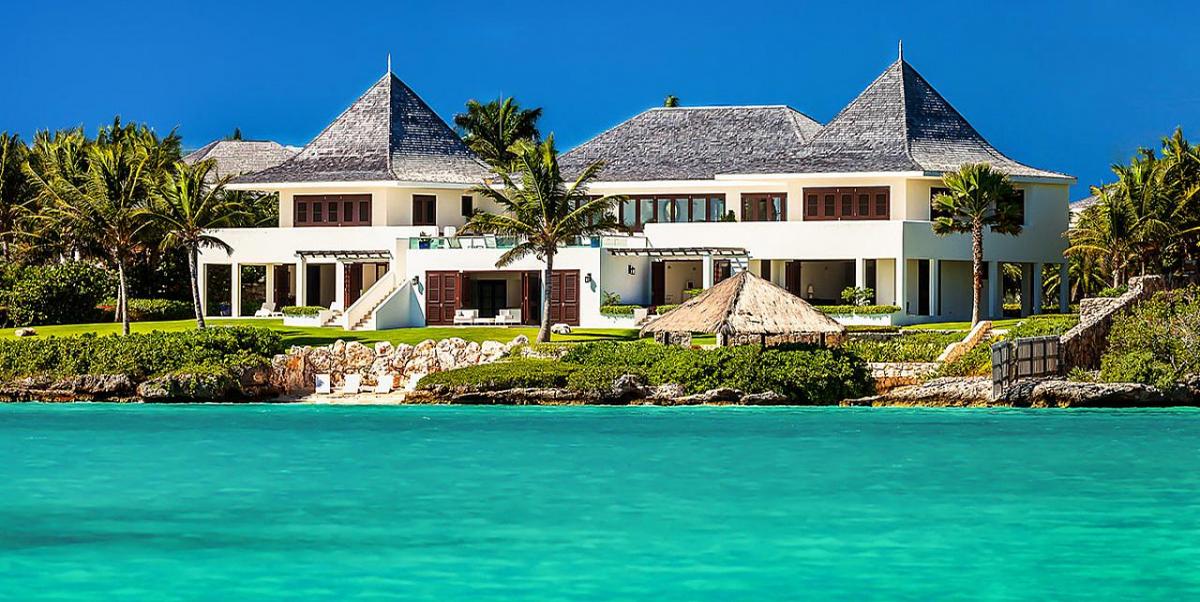 Le Bleu is unique in both location and design. It is spacious and modern.
The accommodation and facilities at Le Bleu are in 2 areas, Le Bleu and Petite Le Bleu. These are linked by attractive landscaped pathways. The spectacular communal living and entertaining areas are situated on the upper level of Le Bleu. This is accessed by walking through an exquisite water garden and ascending the imposing master staircase.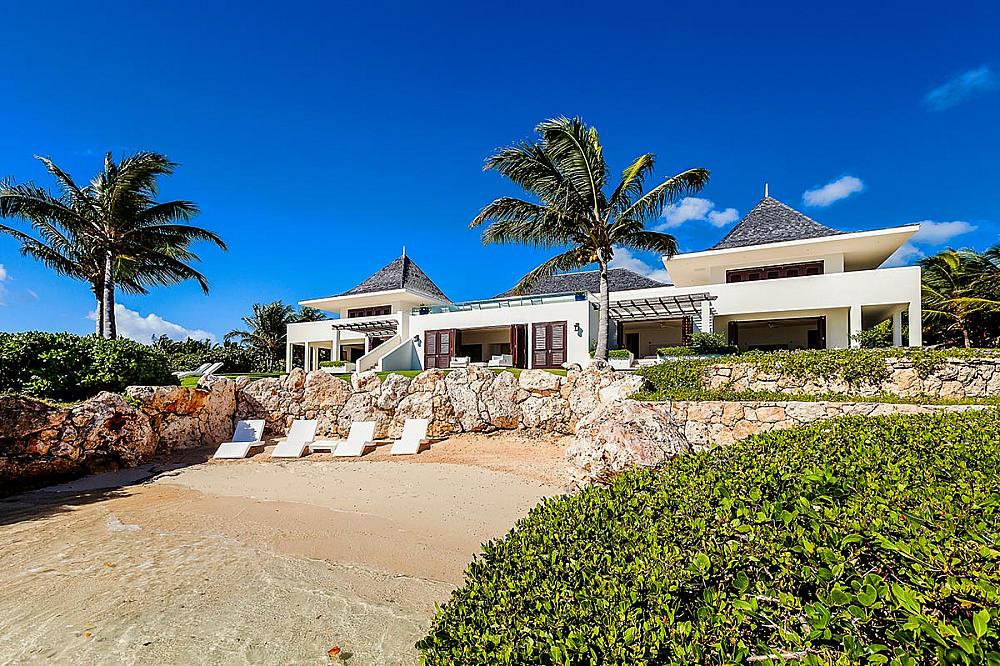 There are 2 small private beaches where the entrance to the sea is suitable for young children.
The rectangular Infinity pool is located in a large deck area. There are sun loungers to relax in and take in the stunning, unobstructed views of the neighbouring islands.
At the waters edge is a thatched dining gazebo area between secluded beaches. There is easy access for children and adults to swim or snorkel on the protected reef of Little Harbour.
Sea kayaks and snorkelling equipment is available.

The Beach House
The Beach House is the newest and most expensive of these 3 villas. It has 8 bedroom suites and may be rented along with one or both of Indigo and Le Bleu.
The Beach House has an unparalleled beachfront location on the soft white sands of Meads Bay. This is one of the most beautiful beaches on Anguilla.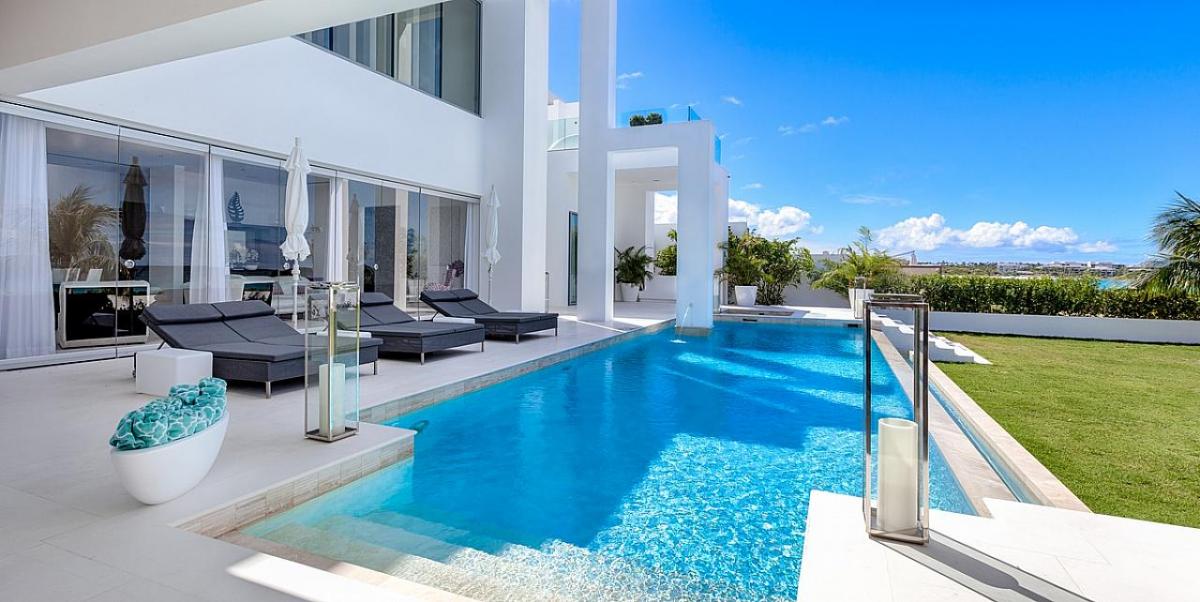 This beautiful villa is positioned within beautifully landscaped gardens. It offers 8 spacious master bedroom suites with breathtaking views.
The Beach House provides the ultimate in modern villa living. It is one of our best villas for weddings in Anguilla.
There are floor to ceiling glass doors which open out directly on to the pool area and terrace. There are more than a dozen dedicated outdoor deck and lounge areas. There is certainly no shortage of space when it comes to families or groups of friends gathering together.
There is a magnificent, 44ft infinity pool. There is also an outdoor Jacuzzi, fully fitted gym and full-size tennis court. The Beach House even has its own 18 seat private cinema.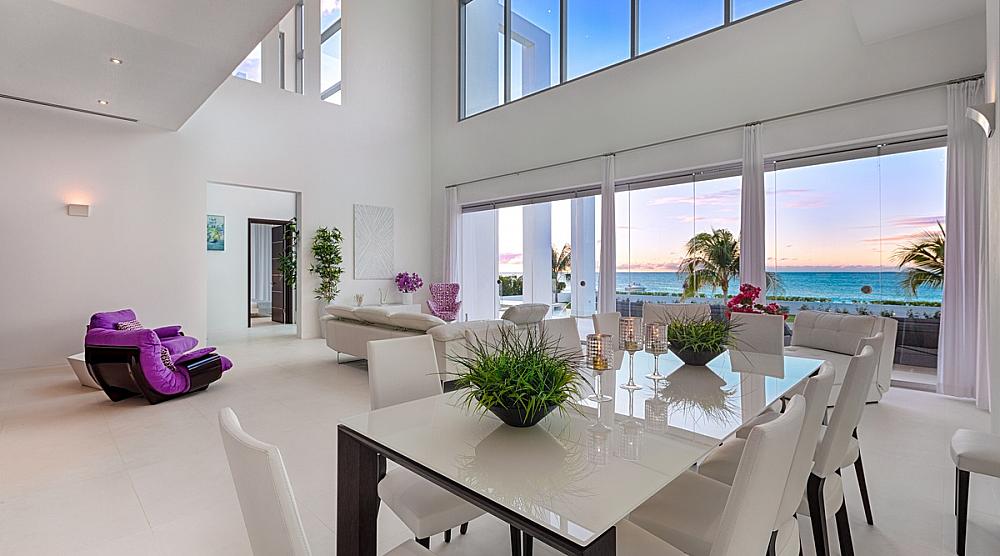 Included with the rental of The Beach House is a great team of professional staff. Chefs will prepare delicious five star cuisine. A butler will look after your every need and the housekeepers will keep everything spic and span. There is security for your peace of mind and ground keepers to keep the gardens looking beautiful.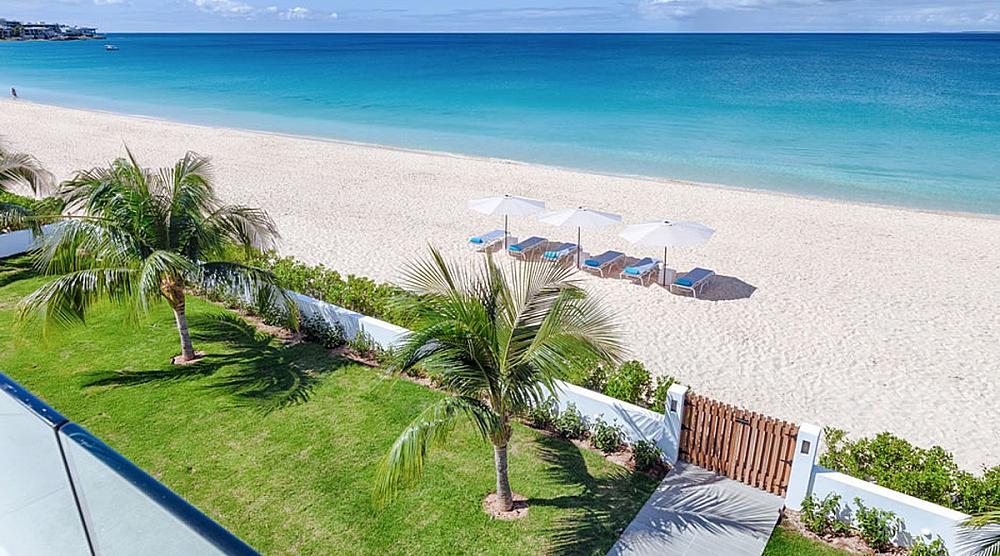 So if you are looking for the perfect villas for weddings in Anguilla look no further.
Le Bleu and Indigo are close to each other and ideal if you want a big party where both can be rented together. All these villas come fully staffed with chef, butler, housekeeper and laundress.
If all 3 houses are rented together they provide up to 28 double bedrooms. The Beach House is approximately 5 minutes drive from Le Bleu and Indigo.
The team on the ground can organise tennis lessons, paddle board lessons and scuba diving. If it is sunset yoga you are after that can be arranged too. They will cater for whatever you would like. They arrange boat excursions and even special dinners including fire pits on the beach.
Le Bleu and Indigo are close to each other and are ideally rented together for big parties. All the houses come fully staffed with chef, butler, housekeeper and laundress.
The Beach House is just a 5 minute drive away. It has 8 bedrooms. For a special celebration, event or wedding all 3 houses can be rented and will accommodate around 56 guests.
Many celebrities have stayed at The Beach House. With an 80x20 feet waterfront deck at The Beach House is perfect for weddings and other events and celebrations.
If you are interested in villas for weddings in Anguilla contact us today We have a selection of other villas for weddings in Anguilla which may be suitable.
For villas on other Caribbean islands visit caribbeandreamvillas.com