Easter villas to rent in Barbados 2023
We have a number of clients looking for Easter villas to rent in Barbados 2023. By then hopefully travel restrictions will have continued to ease and families will be ready to travel.
If you are looking for Easter villas to rent in Barbados 2023 we can provide ideas from our wide selection of villas to rent.
We have villas on the beach, villas in gated developments with many activities on site, apartments and stand alone villlas. We can access almost every villa available to rent in Barbados.
Here are some of our most popular Easter villas to rent in Barbados 2023.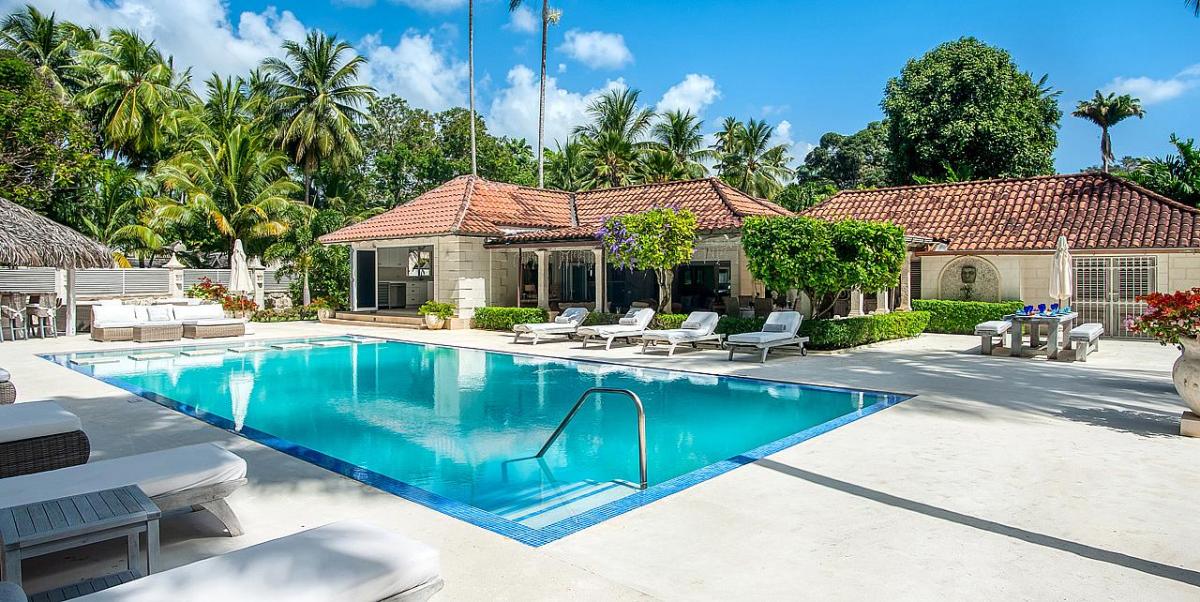 Villa Melissa is a perfect family villa in Barbados. It is one of our most populare Easter villas to rent in Barbados 2023. The villa offers 5 bedrooms - with 3 bedrooms in the main house and a 2 bedroom cottage. "The Times" UK listed Villa Melissa as one of the top 30 Caribbean Villas. It is in a wonderful location just 5 minutes drive from Holetown and a 3 minute walk to the beach.
The villa is rented with cook, housekeeper/laundress and barman/general assistant.
The large salt water swimming pool at Villa Melissa sits in the middle of picturesque and spacious gardens. This villa is particularly suited to families.
The pool is divided into two areas by stepping stones creating a 3 ft. shallow end ideal for children. There is comfortable seating close by so they can be watched from the water's edge. On the other side of the stepping stones is a deeper swimming area. This area is 4.6 " deep throughout for those who want to do lengths.
For further guest enjoyment, the tiki bar has a great, relaxed, beach bar feel about it. Constructed of driftwood timbers with a tiki roof this is the perfect spot for pre-dinner cocktails or a nightcap.
The gardens of Villa Melissa are beautifully landscaped.
Villa Melissa is located on a private road that leads to the beach path. It is only about a 3 minute walk to the beach.
Enjoy beach life but escape to the oasis of the house and garden as and when you feel like it.
If you are looking for Easter villas to rent in Barbados 2023 and you are interested in Villa Melissa contact us today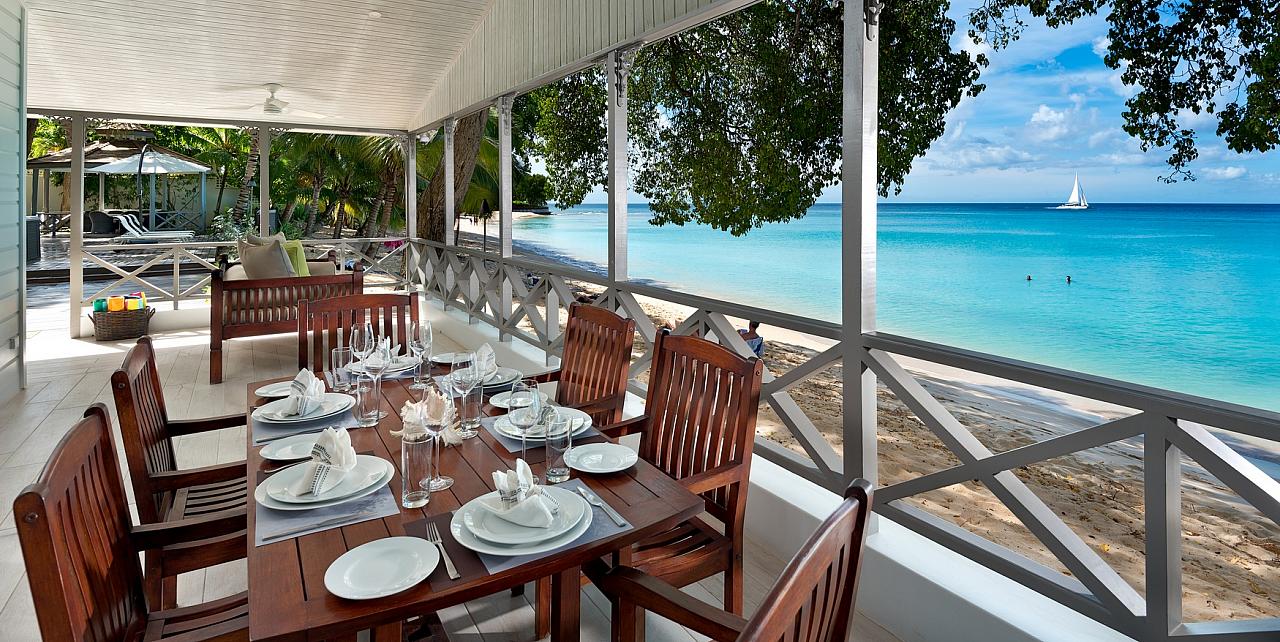 La Lune is a dreamy 2 bedroom, 2 bathroom home. It is just a few steps from one of the best beaches on the west coast of Barbados. La Lunehas recently been renovated and it sits on the beautiful Gibbes Beach on the west coast of Barbados. Gibbes is one of the most beautiful, quiet sandy beaches in Barbados.
La Lune is nestled among several mature trees and lush vegetation. It sits on a 3/4 acre plot. It has stunning views of the tranquil, glistening Caribbean sea.
This property is the epitome of barefoot luxury. With drink in your hand and toes in the sand it is in the ideal location. Just sit back, relax and enjoy a hassle free holiday.
La Lune has a sprawling 200' deck area. From here you will enjoy uninterrupted views of world famous Gibbes Beach and the Caribbean Sea.
The covered terrace is perfect for casual dining or just relaxing with a favourite book.
Sit back and relax and your cook/housekeeper will look after your needs.
If you are interested in this villa we recommend you book early. It is one of the most popular 2 bedroom villas on the beach in Barbados. Gibbes beach is also one of the most sought after beaches on the west coast of Barbados.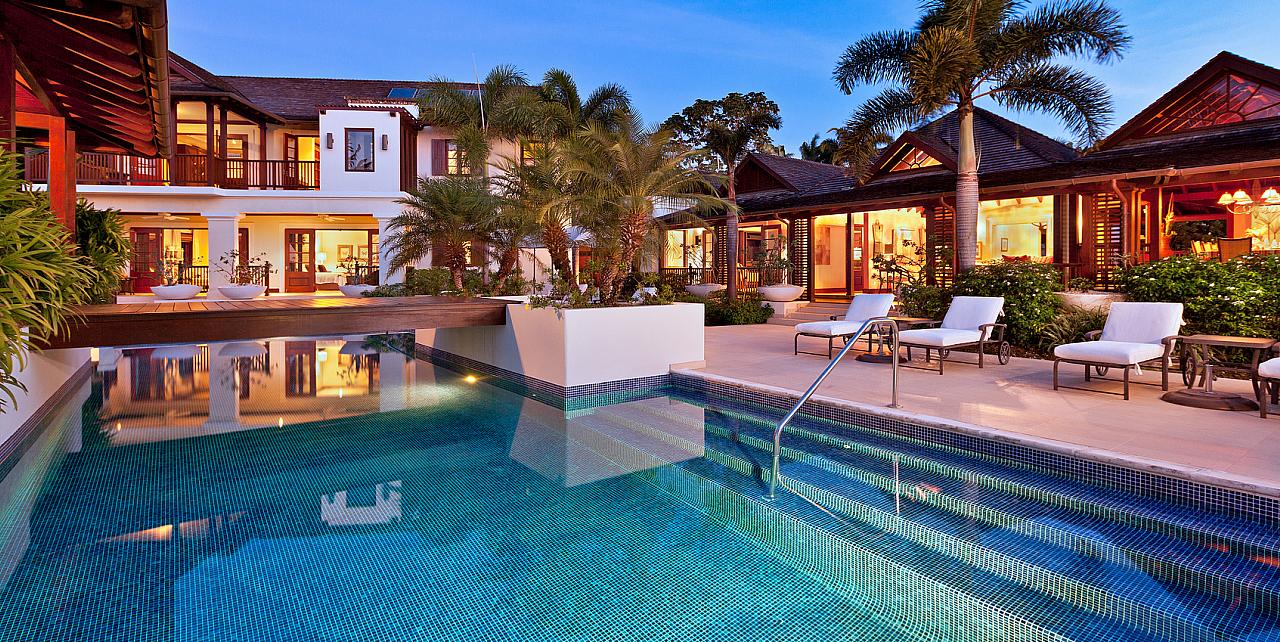 Alila is a beautifully designed open plan villa with tropical gardens and stunning pool. This villa offers a touch of paradise with access to Sandy Lane Estate beach facility.
Villa Alila is a 4 bedroom villa situated on the edge of a ridge on the Sandy Lane estate. It provides wonderful west coast treetop views out to the Caribbean Sea. Alila is just a few minutes drive from the beach. It comes with chef, housekeeper and laundress.
This two storey luxury villa is beautifully built with a flowing open plan design.
Alila has fabulous unique features. There are soothing koi ponds gracing either sides of the wooden walkway to the entrance. A wall water feature calms you whilst dining in the dining area.
The master bedroom encompasses the whole upper level. It has its own private terrace with breathtaking views. The views extend over the treetops to the sea. The master bedroom also features a unique ensuite bathroom. This features a spacious walk in shower and a wonderful open air bath tub.
The other 3 bedrooms are on the lower level of the property. They all have air conditioning and en suite bathrooms and they each open out onto expansive terraces.
Outside there is a beautiful wooden bridge leading across the infinity edge swimming pool to a raised dining gazebo. This is a romantic spot from which guests may enjoy the stunning views.
Guests staying at Villa Alila will also have access to a private beach cabana at the renowned Sandy Lane beach.
Alila is rented with chef, housekeeper and laundress.
Guests have use of the facilities at the Sandy Lane Estate Beach Club where sun loungers and parasols are provided. This is about a 3 minute drive away.
Guests may also pre-book and use the tennis courts on the Sandy Lane Estate.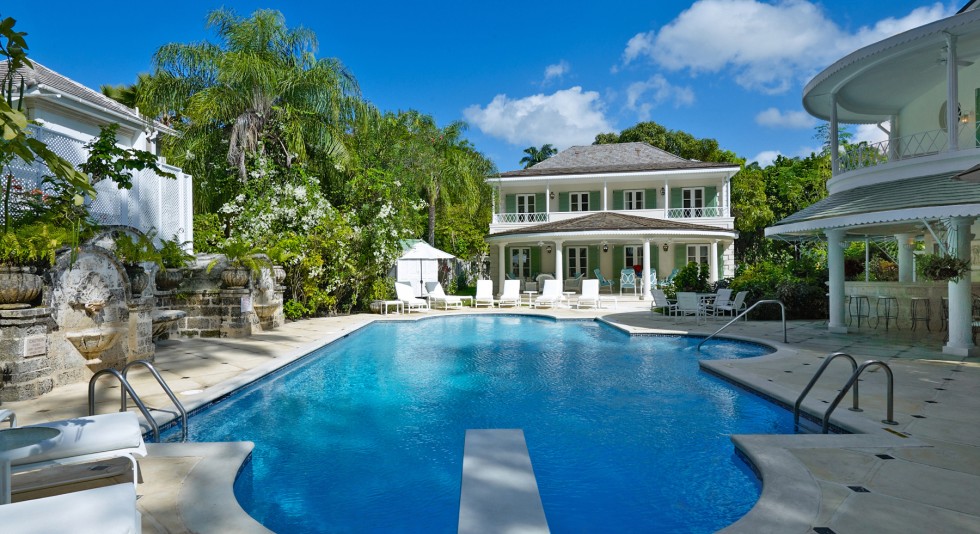 another of our favourite Easter Villas to rent in Barbados 2023 is St Helena. St Helena is a 5 bedroom property in a beautiful beachfront location. It sits next to the calm clear waters of the west coast of Barbados. It is also close to Holetown. Here you will find plenty of fine dining restaurants, beach bars and shopping opportunities.
This charming 5 bedroom villa can accommodate up to 16 guests. There are 5 bedrooms in the main house and a further 3 in the recently completed 3 bedroom cottage. The cottage is located within the grounds of St Helena.
St Helena is tastefully designed and comfortably furnished. It was designed by the late Oliver Messel. Its most recent renovations were completed by renowned local architect Larry Warren.
Two of the five ensuite bedrooms located downstairs close to large swimming pool. There is a spacious pool deck, bar and al fresco dining area.
The pool deck is partly covered. It features beautiful fountains carved from the Island's natural coral stone. There is also a spa pool which is nestled within the gardens in its own private area.
The other 3 bedrooms are situated upstairs and they all lead out on to a semi-circular terrace. This provides a spacious, relaxing area. It is the perfect spot to watch the sun go down cocktail in hand. The terrace has a lovely bar overlooking the lush gardens and Caribbean Sea beyond.
The grounds at St Helena have plenty of areas to sit, relax or dine. There is a romantic alfresco dining gazebo close to the beach entrance. Villa Helena has some unique features such as a lily pond and an aviary which houses 250 homing budgerigars.
The new 3 bedroom cottage at St Helena was recently completed. It is beautifully decorated and furnished. It offers 3 en suite bedrooms. 2 of the bedrooms are upstairs and the 3rd is downstairs. The cottage also has its own spacious living room and a kitchenette. There is a large terrace overlooking the pool. This is a lovely place to relax and unwind.
For guests further enjoyment the villa rental includes water-sports with boat and toys for one hour each day.
If you are interested in Easter villas to rent in Barbados 2023 contact us today. Our specialist team will be happy to find the right villa or apartment to suit your taste and budget.
If you are looking for long term rentals in Barbados visit longtermrentalsbarbados.com
For properties for sale in Barbados visit barbadosdreamproperties.com