Caribbean Villa Holidays for Foodies
Caribbean villa holidays for foodies
If you love your food and wine and are looking for Caribbean villa holidays for foodies we can help. There are wonderful villas to rent in the Caribbean. Many come with chefs and are close to wonderful restaurants.
Here are a few suggestions for Caribbean villa holidays for foodies.
TURKS AND CAICOS
Turks and Caicos is an archipelago of 40 low-lying coral islands in the Atlantic Ocean. It is a British Overseas Territory southeast of the Bahamas. The gateway island of Providenciales, known as Provo, is home to expansive Grace Bay Beach. This has luxury resorts, shops and restaurants. Scuba-diving sites include a 14-mile barrier reef on Provo's north shore. There is also a dramatic 2,134m underwater wall off Grand Turk island.
For those who enjoy good culinary experiences try Coco Bistro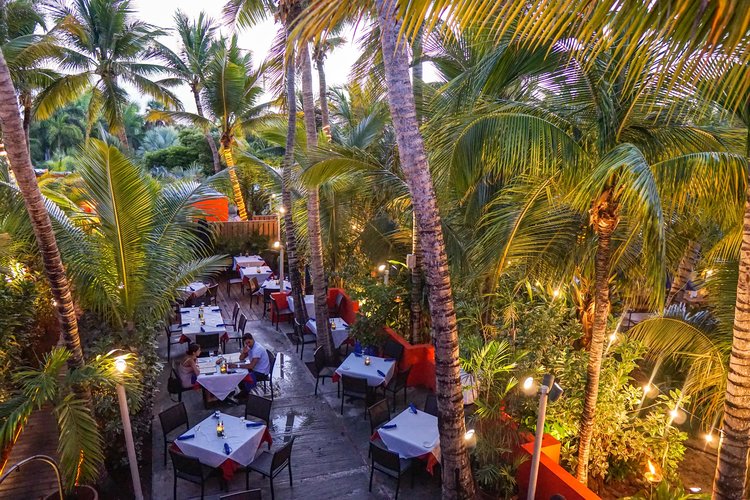 Set amidst the largest palm grove on the island of Providenciales in the Turks and Caicos Islands, Coco Bistro is a food lover's fantasy in a one-of-a-kind setting.
It is located in the heart of Grace Bay, within walking distance from most resorts. Coco Bistro serves fresh local cuisine under a starlit sky and swaying coconut palms.
Complementing the delightful island ambience is a culinary experience considered among the best in Turks and Caicos.
Why not rent a luxury villa in Turks and Caicos and enjoy the privacy of your own villa. Go to these lovely restaurants and relax on the beautiful golden beaches.
For luxury villas to rent in Turks and Caicos click here and find some of our beautiful Caribbean villa holidays for foodies.
You might also love Coco Bistro's sister restaurant Cocovan. This is a food truck which is one of the coolest places to eat in the Caribbean. Beautifully presented tacos served from an Air Stream.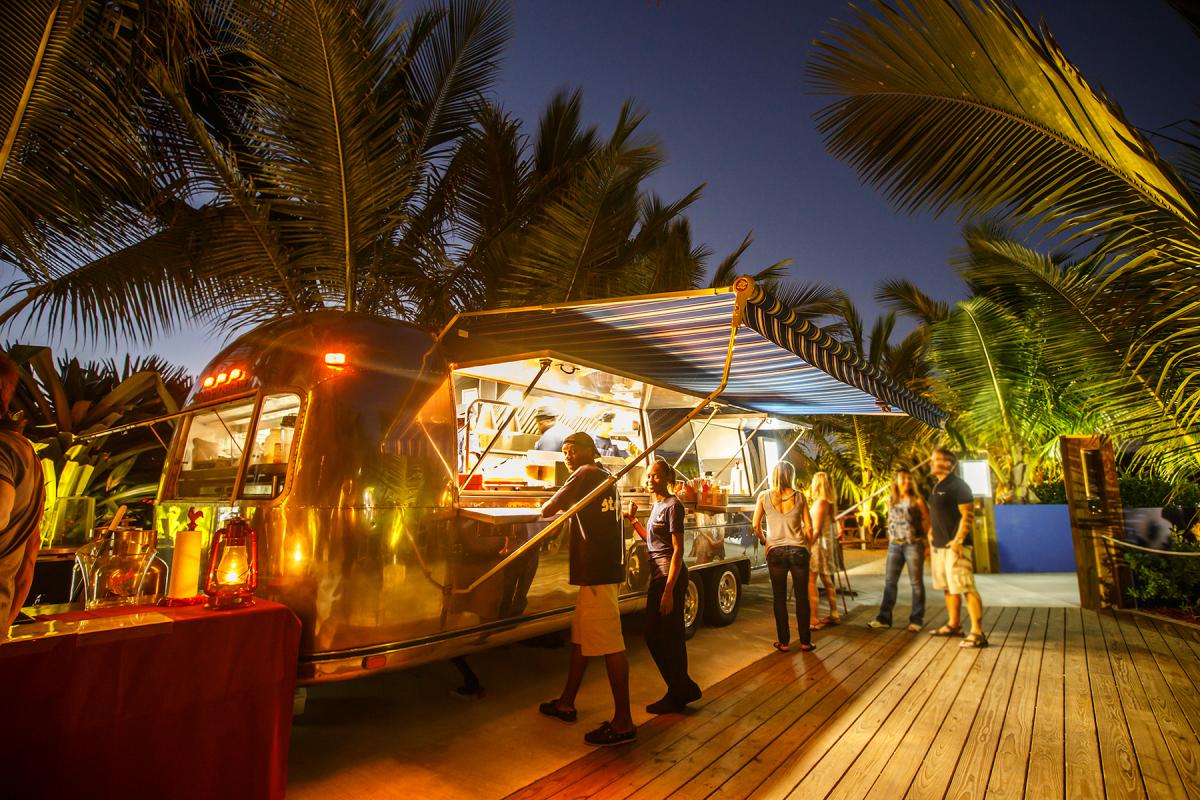 Sit and enjoy it in relaxed seating areas in the tropical setting around the van.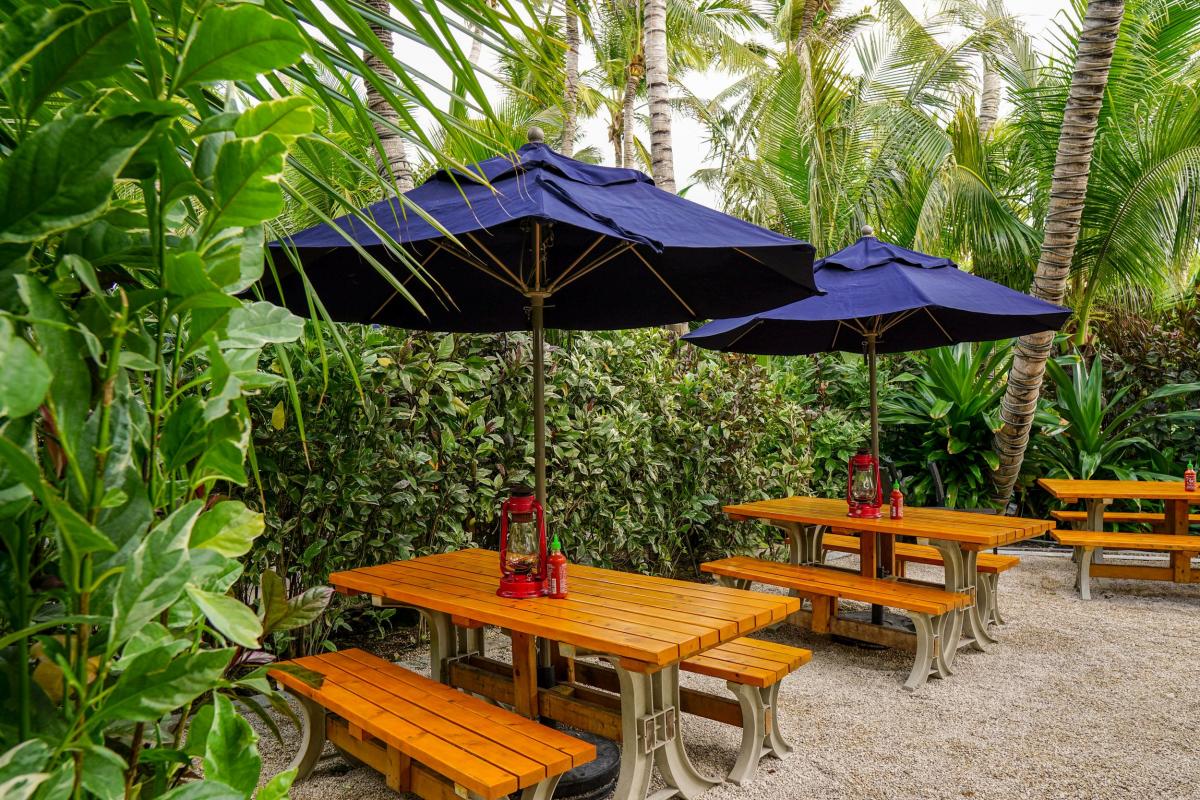 Try spicy and crispy steak tacos with sweet chili, Sriracha, green onion, cucumber and radish. For something a little more healthy try spicy falafel lettuce cups. These are served with lemon yoghurt tahini dressing, tomato and cucumber. Tuna Tartar with asian crispy rice and spicy aioli is another popular dish. Also the crispy chicken tandoori skewers with tangy curry dressing.
Caribbean Element is another popular spot for foodies.
Try the lamb.......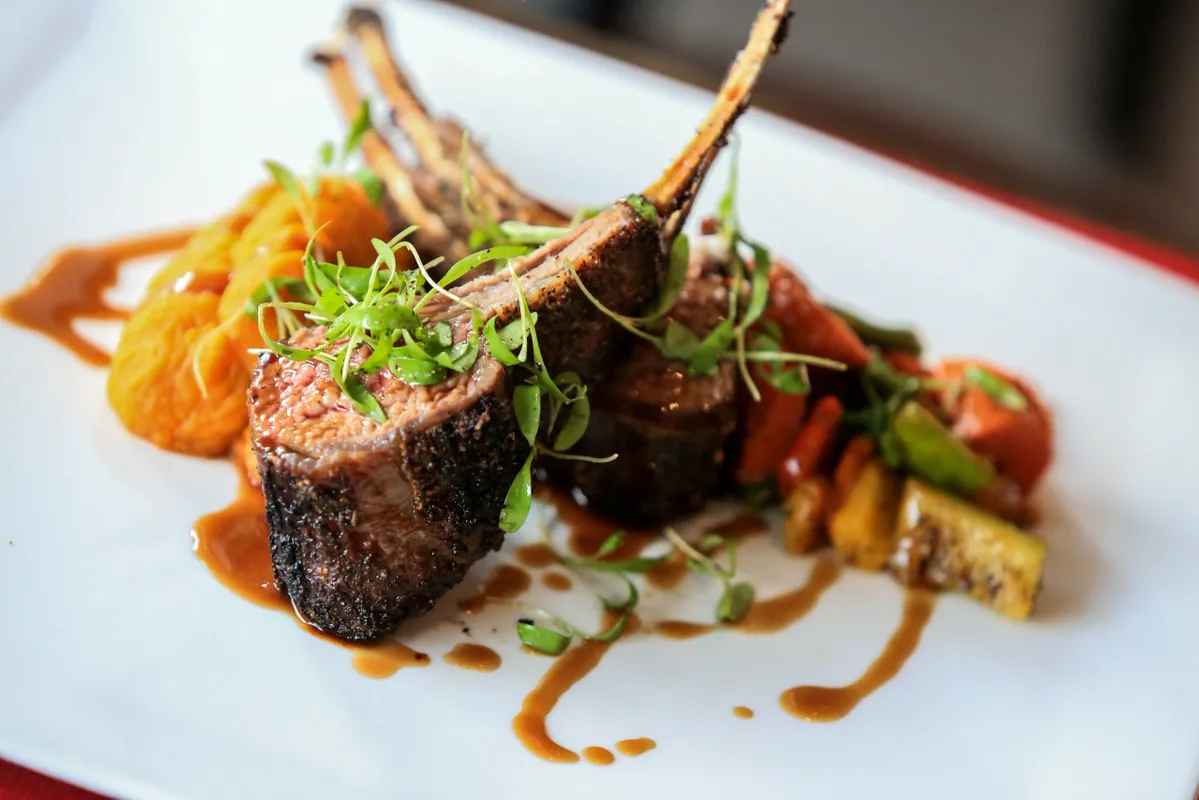 ......or the squid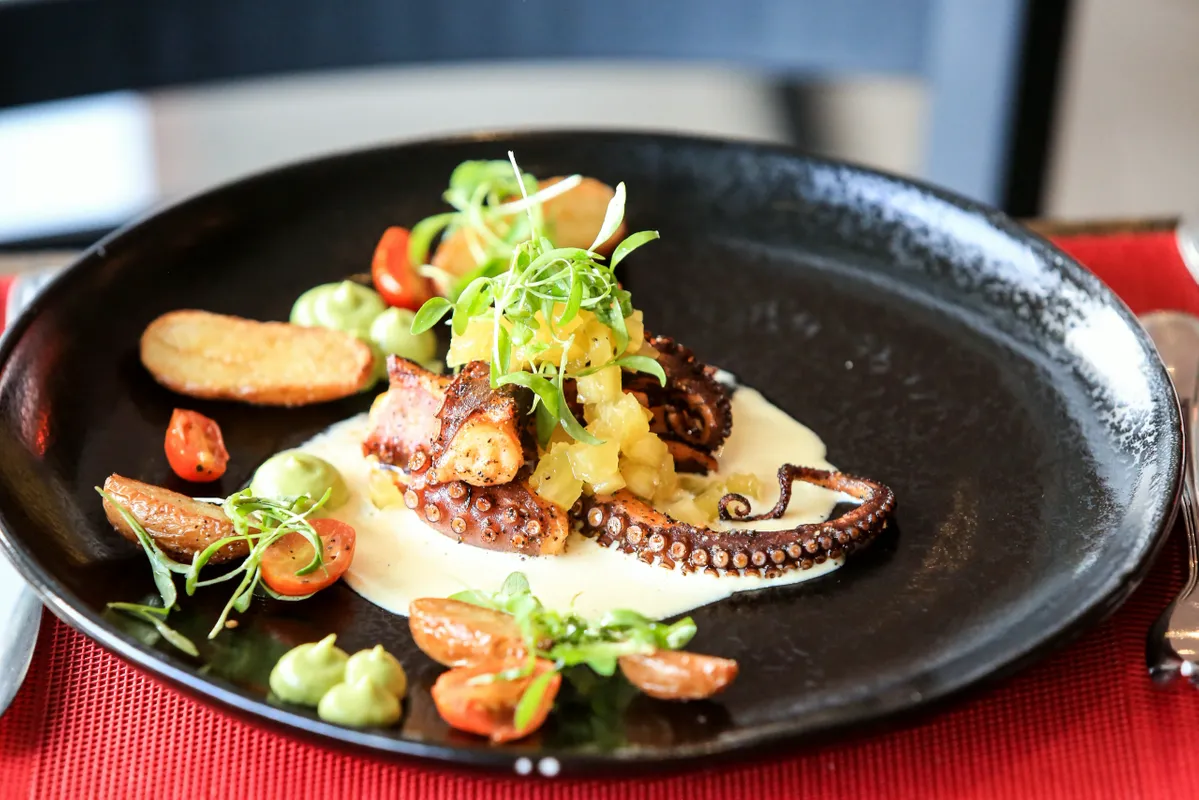 Watch the sun set and listen to live music at Infiniti restaurant at Grace Bay beach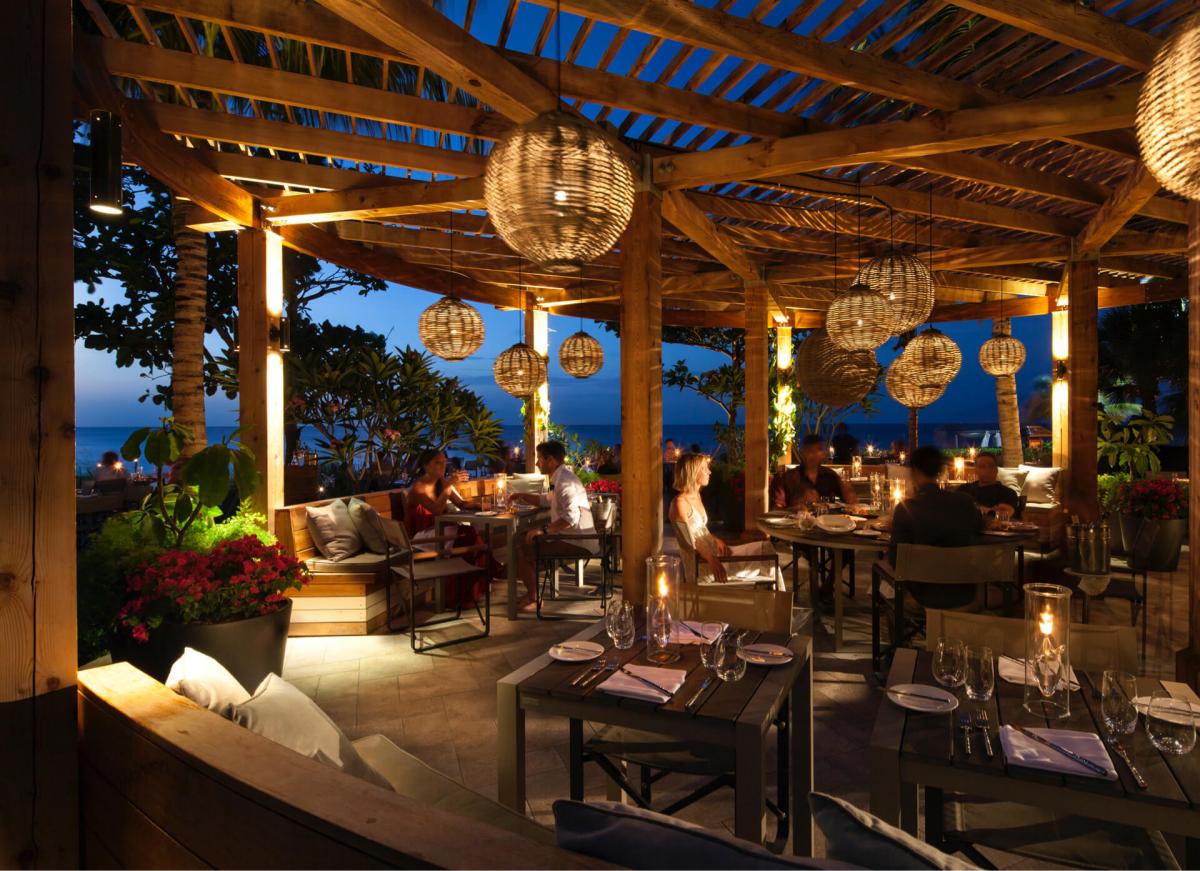 Villas to rent in Turks and Caicos include:
The cool white marble interiors reflect the effortless Hamptons-style of Parrot Cay. Outside, a sprawling sundeck hemmed by lush greenery creates a natural cocoon. The discreet services of a private butler, state of the art gym and fully equipped office ensure a seamless stay.
The bedrooms feature four poster beds with white voile draping, air conditioning and colonial style ceiling fans. The private terrace is the perfect place to watch the sun go down and admire the stunning views.
An oasis of private luxury is only a short buggy ride from the five stay amenities of the Parrot Cay resort, Tamarind is the ideal island hideaway for small groups and family gatherings.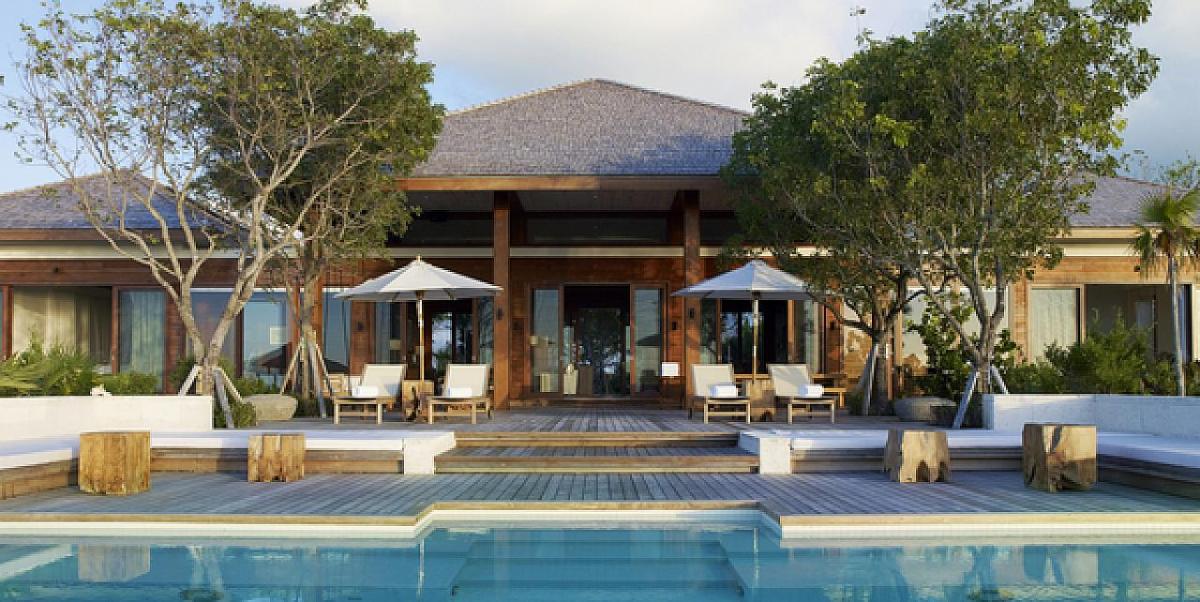 To see our selection of luxury villas to rent in Turks and Caicos click here
ANGUILLA
The gourmet scene on Anguilla is a reason in itself to visit. There is wonderful local fare such as red snapper and crayfish permeate menus (often prepared in original ways). Book a villa with us and we will be happy to advise you on the best places to eat in Anguilla. Anguilla is one of the most popular islands for Caribbean villa holidays for foodies.
Hibernia offers French cuisine with Thai and Japanese flavours. Hibernia is a restaurant and art gallery. It reflects the experiences of the owners' annual Asian travels. Located in Island Harbour it has access to the best and freshest local sea food. An eclectic cuisine with a French chef.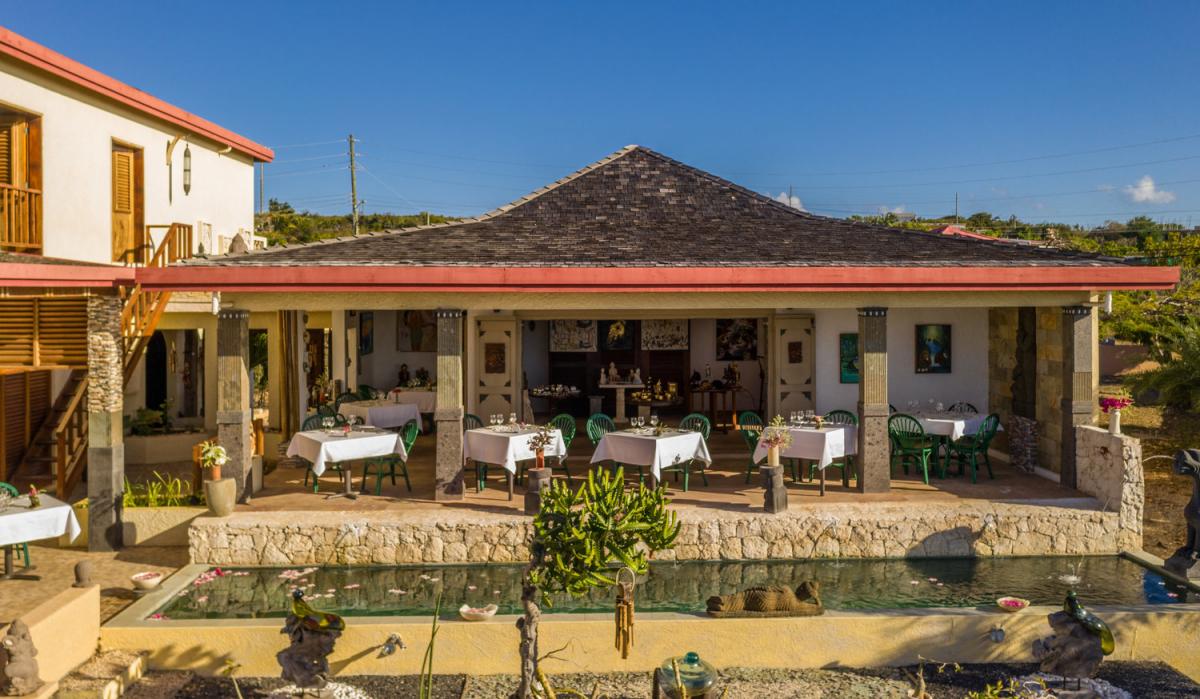 ELVIS' has been featured on the Travel Channel. It is ranked ranked in the top 5 Caribbean Beach Bars by USA Today's Readers Choice Awards numerous times. Fabulous tacos and burritos.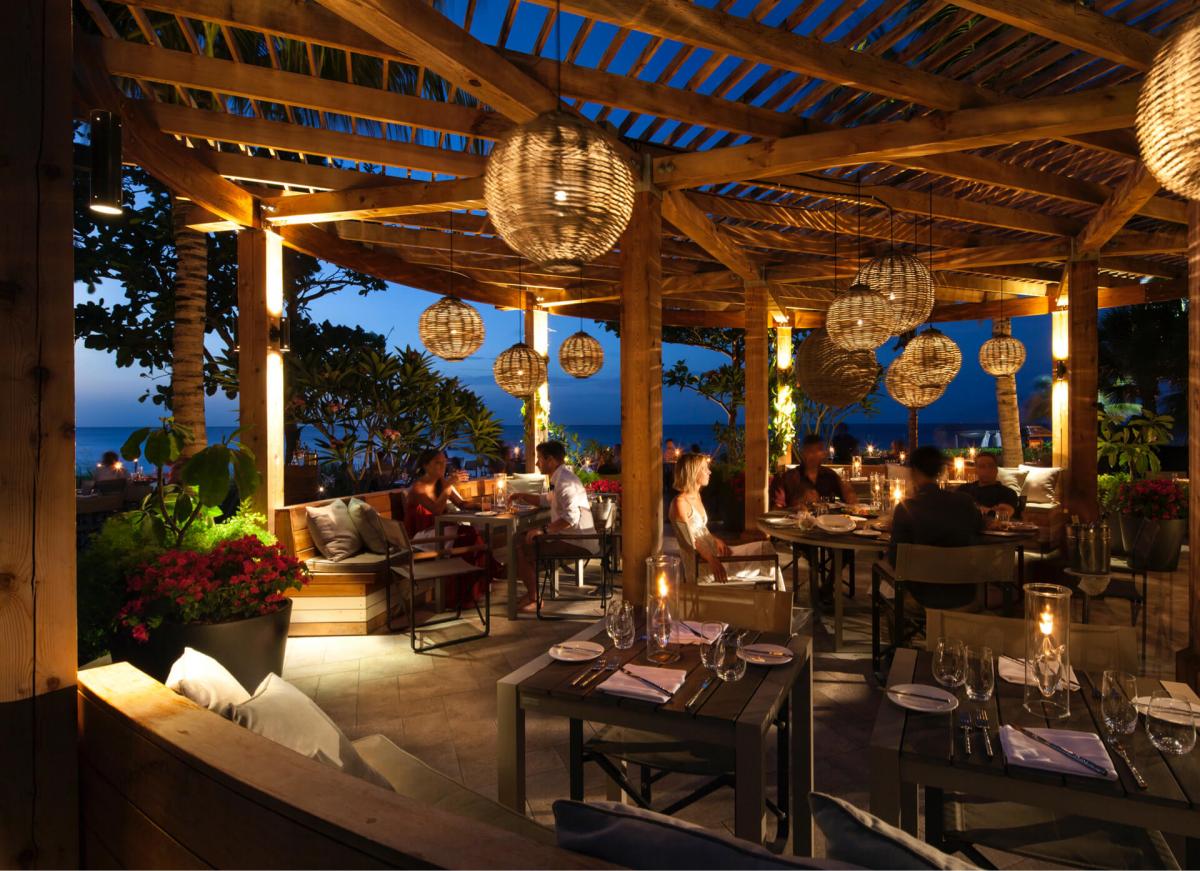 A lovely setting in which to enjoy fabulous cocktails. Light Caribbean bites at lunchtime and as the stars come out enjoy sophisicated Peruvian cuisine, ceviche and sharing plates.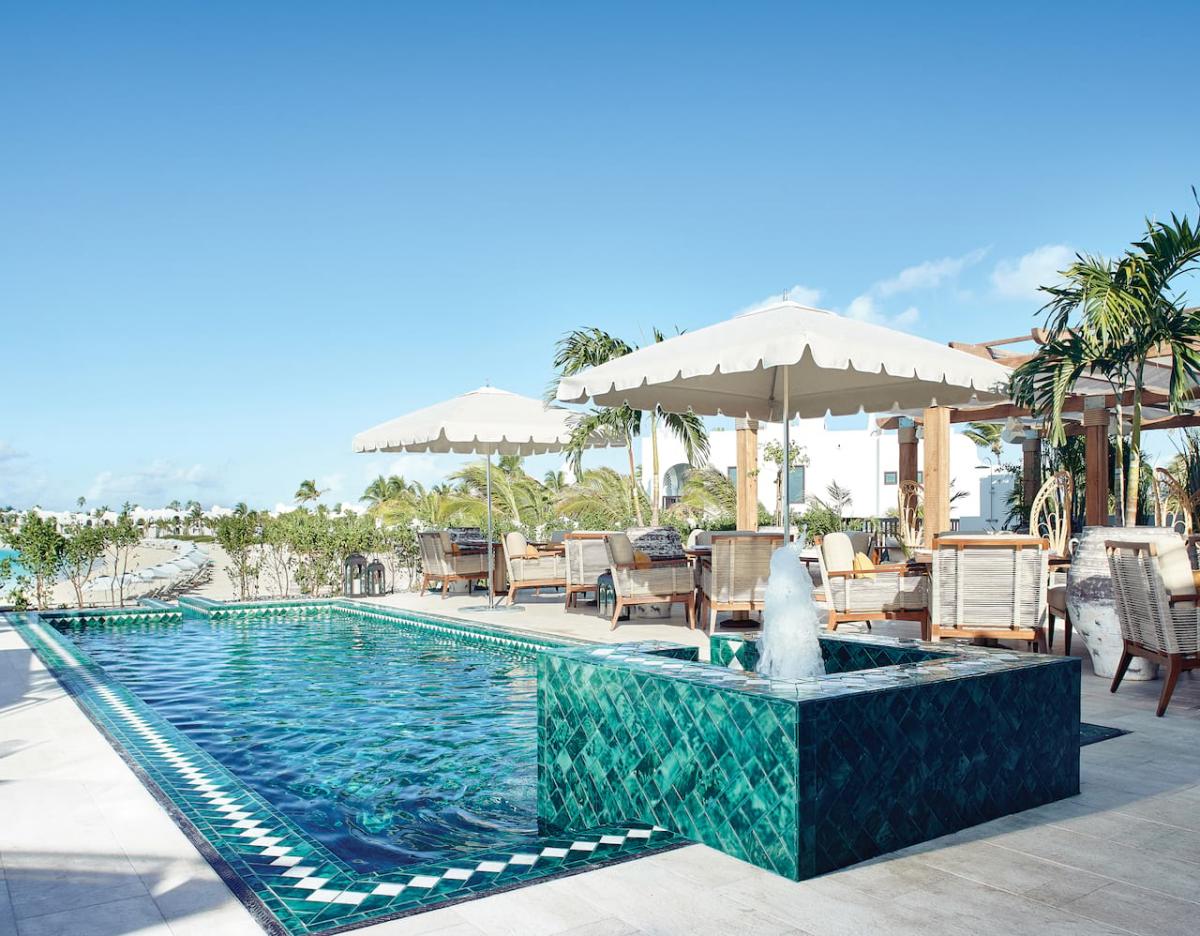 There are many beautiful villas to rent in Anguilla.
LE BLEU ANGUILLA
Le Bleu, Anguilla is an exciting and glamorous new luxury villa on the Caribbean Island of Anguilla. This 11 bedroom villa (all en-suite) is located in approximately 2.5 acres of beautiful tropical gardens with two swimming pools, two small natural beaches, beach pavilion, tennis court, gym, personal cinema and beautiful water garden.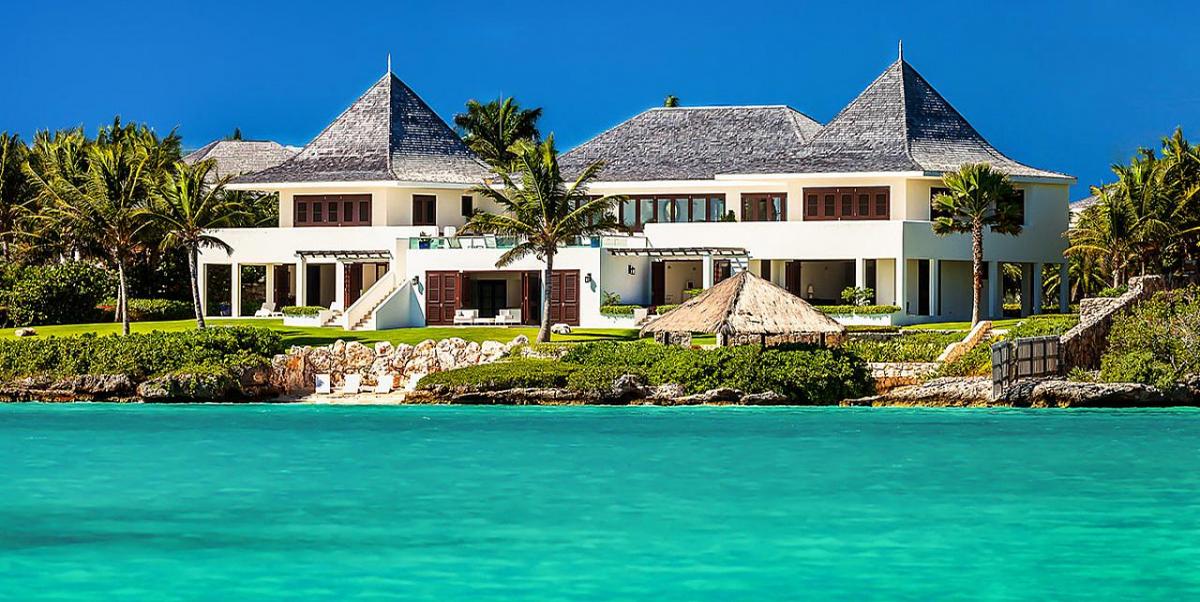 For more luxury villas to rent in Anguilla click here
BARBADOS
Barbados is a wonderful Caribbean island where the people are friendly and the beautiful golden beaches are quiet. There are so many excellent restaurants in Barbados it is hard to know where to start. It is the perfect island to provide Caribbean villa holidays for foodies.
Try:
A delightful setting and wonderful dishes with amazing aromas and flavours. There is fresh fish, a wonderful curry served in a half coconut shell and, for the vegetarians,the very best cauliflower steak seasoned to perfection and served with an array of flavours and sauces.
The Cliff is arguably one of the most romantic restaurants in the world. Sitting on a bluff overlooking the Caribbean Sea there are few settings to match this one. Torches light up the restaurant and the cliff top setting and there are huge fish to watch in the floodlit waters below.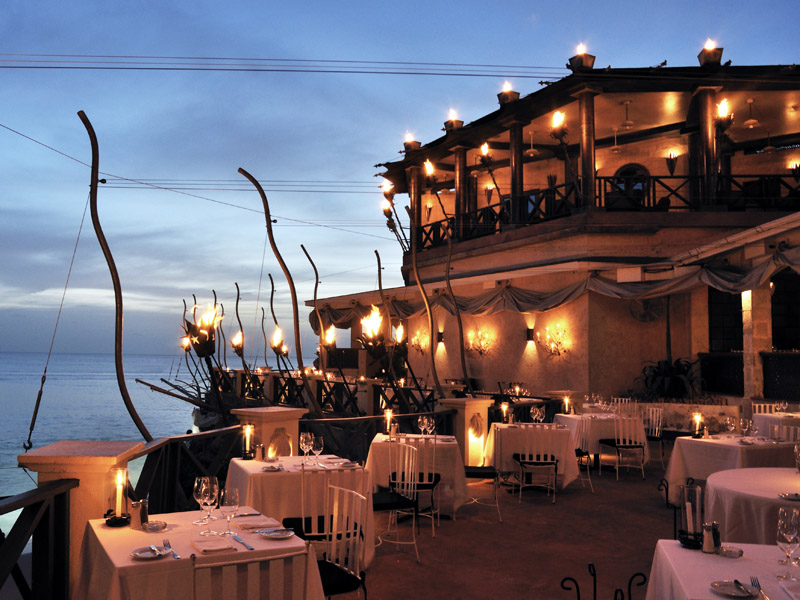 The menu has something for everyone to enjoy.
We have an extensive range of villas to rent in Barbados.
Try: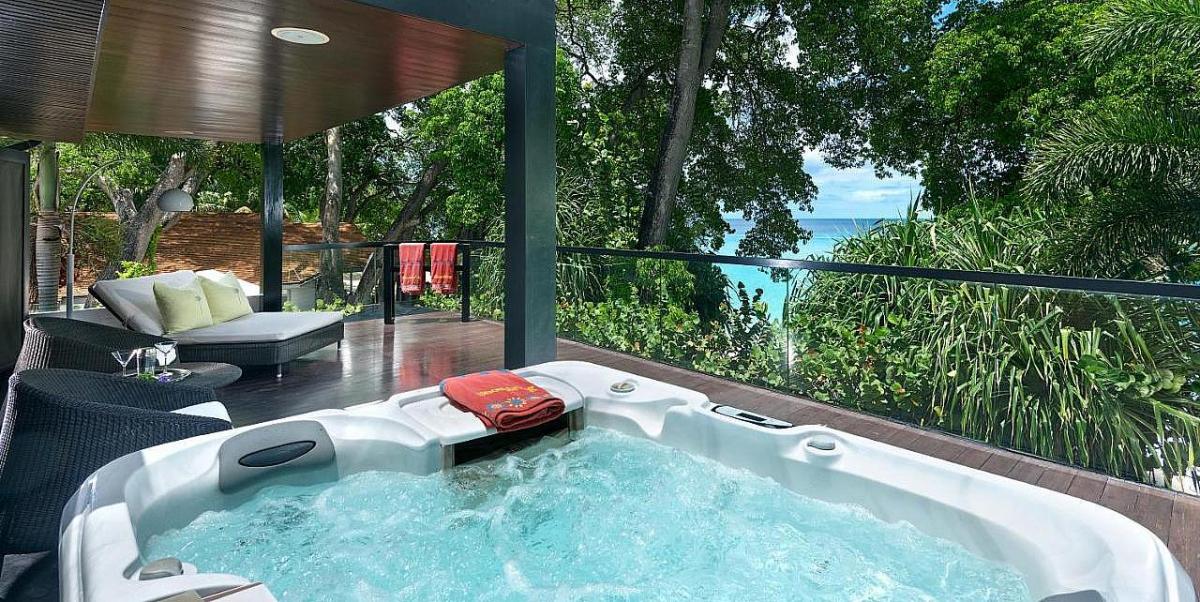 Shoestring is a lovely 3 bedroom home located on Gibbes Beach, Barbados. Gibbes Beach is one of the most beautiful, quiet beaches on the west coast of Barbados.
Shoestring is one of the newest additions to the villa rental market in Barbados.
Set right on the beach against a backdrop of tall trees this is a wonderful beach front home. It is designed in simple, contemporary style. There are large living areas and louvre windows with glass doors. From here there are extensive views of of the turquoise waters in front of the house.
The beach and swimming outside the house is second to none.
The design in Shoestring is minimalistic with smooth granite finishes. There is plenty of glass and straight lines.
The ambience is one of peace and tranquility. A quiet haven on a stunning golden beach.
Villa Melissa is a 5 bedroom villa just a 3 minute walk from the beach down a dreamy beach path. Lovely extensive pool and its own poolside bar affectionately know as Chubs One Love Bar.
Villa Melissa is one of our most popular villas to rent in Barbados. Reasonably priced with a staff who include a cook, housekeeper/laundress and general assistant/bar man.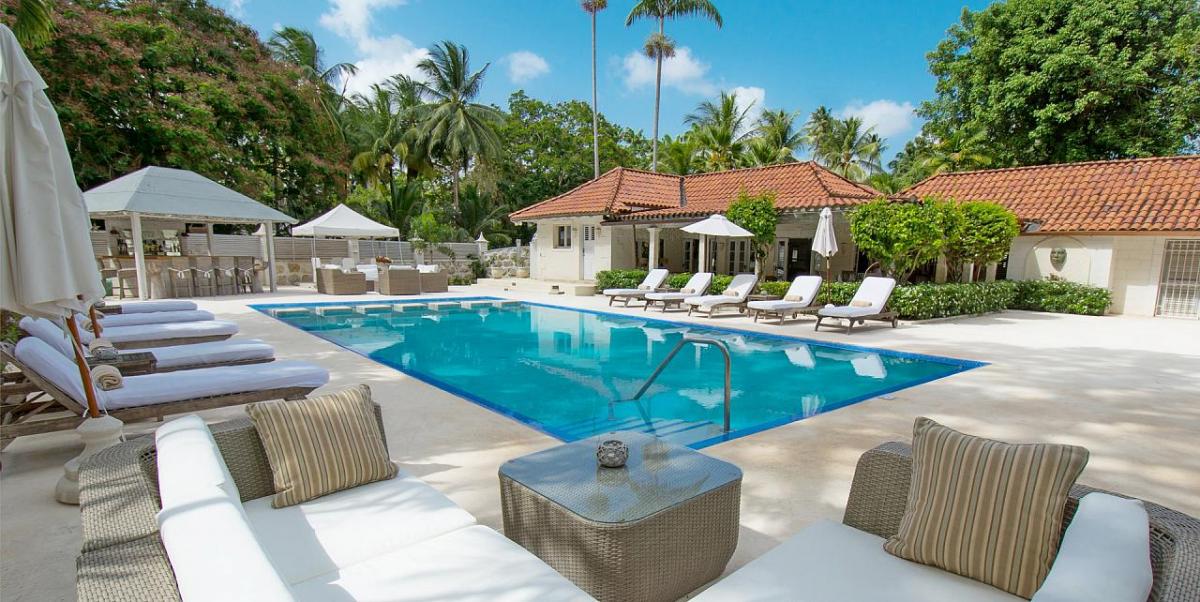 For a large selection of villas to rent in Barbados visit barbadosdreamvillas.com
If you are interested in booking Caribbean villa holidays for foodies contact us today
A member of our team will be delighted to assist.