Barbados luxury villas
There are so many Barbados luxury villas it will be difficult to choose which one. Most Barbados luxury villas come with staff. Many have cooks and housekeepers/laundresses. Some also have butlers.
We have a huge selection of Barbados luxury villas for you to choose from.
Here is a small selection: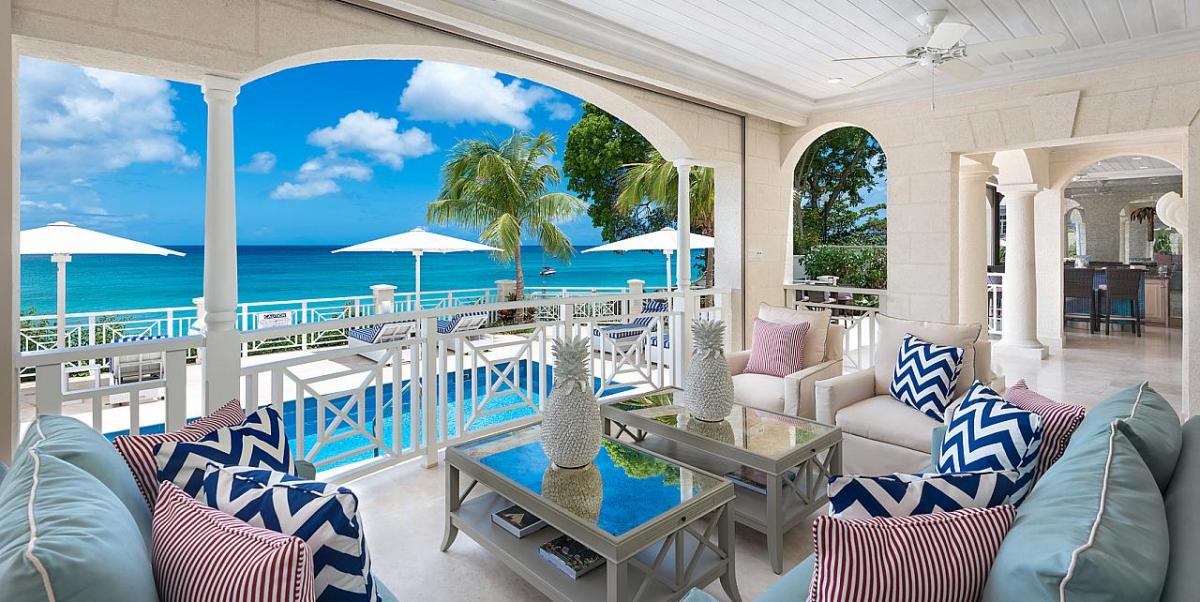 Blue Lagoon is one of the newest and most prestigious beachfront holiday villas for rent in Barbados. It is located in the exclusive Garden Area. This is referred to colloquially as 'Millionaire's Row'. The villa has undergone completer renovation and offers approximately 12,000 square of space. It is rented with the services of a chef, housekeeper and laundress.
Blue Lagoon offers 5 bedrooms overall. There are 4 ocean view bedroom suites in the main part of the villa. There is also a separate cottage with 1 bedroom plus staff quarters (possible 6th bedroom on request an extra cost).
This stunning villa has been furnished in a contemporary style throughout. It offers touch-based control throughout along with Sonos sound system. There is an air-conditioned gym, spa, theatre, and games room with billiards/pool table. For those who need it, there is also an office.
The villa layout provides extensive indoor-outdoor living areas. These look out on to the beautiful Caribbean sea right in front of the villa. There is formal or casual dining on the covered terrace which can seat up to 10 guests.
Blue Lagoon is a wonderful villa for those seeking the ultimate in location and luxury.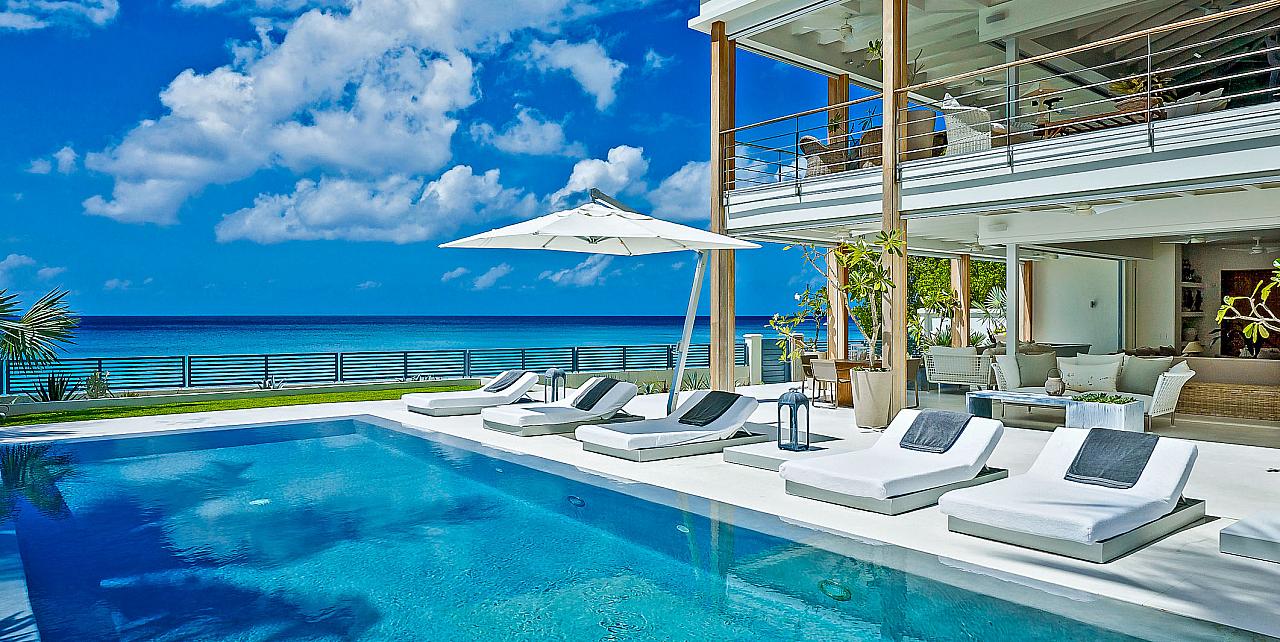 The Dream is a stunning 5 bedroom beachfront villa. It mixes contemporary, cutting edge design with Caribbean chic. The Dream is one of the most luxurious villas in Barbados.
The comfort, facilities and staff at the Dream Barbados offer a lifestyle and holiday experience unparallelled on the West Coast of Barbados.
The Dream offers the best of both worlds. It is set at the end of a private drive offering a quiet and tranquil retreat. Yet it is also within easy reach of the West Coast's top amenities.
Just a short drive from Holetown, all the amenities available there are on offer. These include world class shopping, banks, restaurants, cafes and cinema.
World famous restaurants like The Cliff and Lone Star are just a short drive away. It is also close to trendy night spots and a selection of competition golf courses.
Latitude is in a wonderful location just a few steps from Gibbes beach -one of the best west coast beaches.
Latitude is a beautiful 3 bedroom villa on the beach. It is located in an exclusive cove at the edge of one of the finest beaches on the West Coast of Barbados.
This two-storey villa of neutral coral stone offers elegant comfort. It is the perfect place to relax and unwind.
Designed with entertaining in mind, there is an inviting pool and wide terrace with plenty of seating. There are sun loungers as well as a barbecue and wet bar. This is all just a few steps from picturesque Gibbes Beach. Gibbes Beach is one of the most beautiful beaches on the west coast of Barbados.
Dining for six persons is situated on the open-air terace. This is ideally located off the well equipped gourmet kitchen.
Upstairs is the large master bedroom with en-suite bathroom and walk in wardrobe. It also has a large terrace and magnificent views overlooking the Caribbean Sea and the private pool below.
A small well equipped exercise room is located on the upper floor.
Two air-conditioned and very well appointed ensuite bedrooms are situated on the ground floor. There is also a study on the ground floor.
Latitude is just a short drive from the golfing and tennis facilities of the world renowned Royal Westmoreland resort.
If it is water sports you are interest in, just walk down to Mullins Beach where you will find a wide array of water sports activities for every age group.
There is fabulous shopping at Lime Grove in Holetown which is less than 15 minutes drive away.
Latitude is the perfect tropical villa for your Barbados family getaway.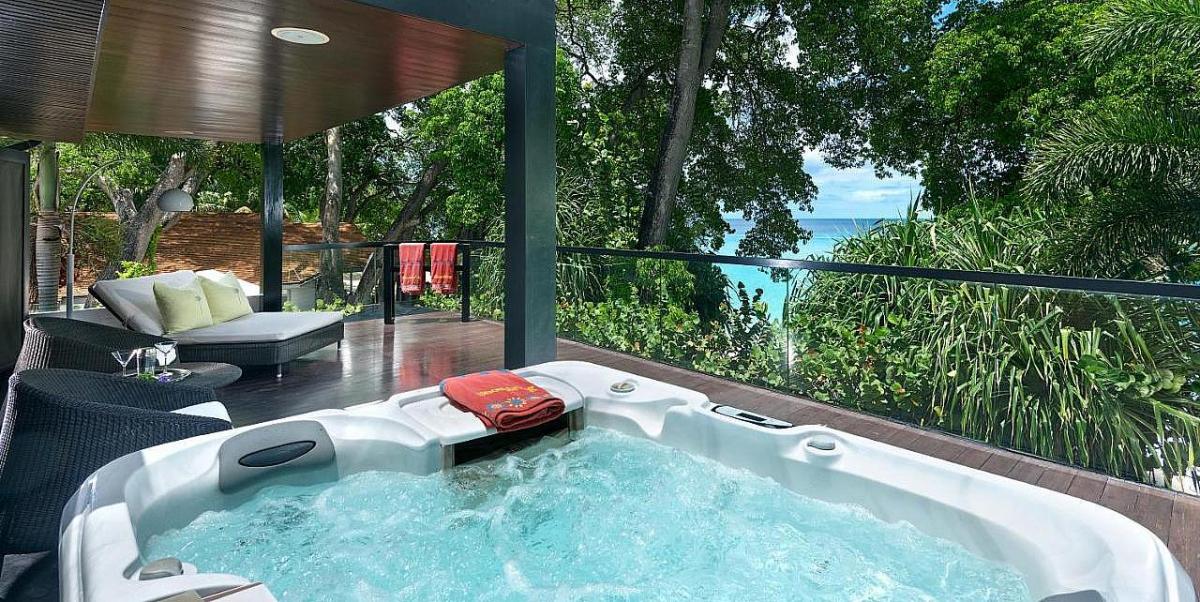 Shoestring is a lovely 3 bedroom home located on Gibbes Beach, Barbados. Gibbes Beach is one of the most beautiful, quiet beaches on the west coast of Barbados.
Shoestring is one of the newest additions to our Barbados luxury villas.
Set right on the beach against a backdrop of tall trees this is a wonderful beach front home. It is designed in simple, contemporary style. There are large living areas and louvre windows with glass doors. From here there are extensive views of of the turquoise waters in front of the house.
The beach and swimming outside the house is second to none.
The design in Shoestring is minimalistic with smooth granite finishes. There is plenty of glass and straight lines.
The ambience is one of peace and tranquility. A quiet haven on a stunning golden beach.
The master bedroom suite is on the upper level built around a large glass shower enclosure. It has an unrivalled view of the sea. The sea is so close you feel you could reach out and touch the turquoise waters. There is an outdoor terrace from the bedroom with jacuzzi where you can relax glass in hand under the stars. The outdoor terrace is a relaxing, calming place to sit and enjoy the views with the sound of the sea ebbing and flowing below.
The other two bedrooms are on the lower level. Both have en suite bathrooms. One has a cool bath tub as well as shower.
Shoestring is a really stunning home.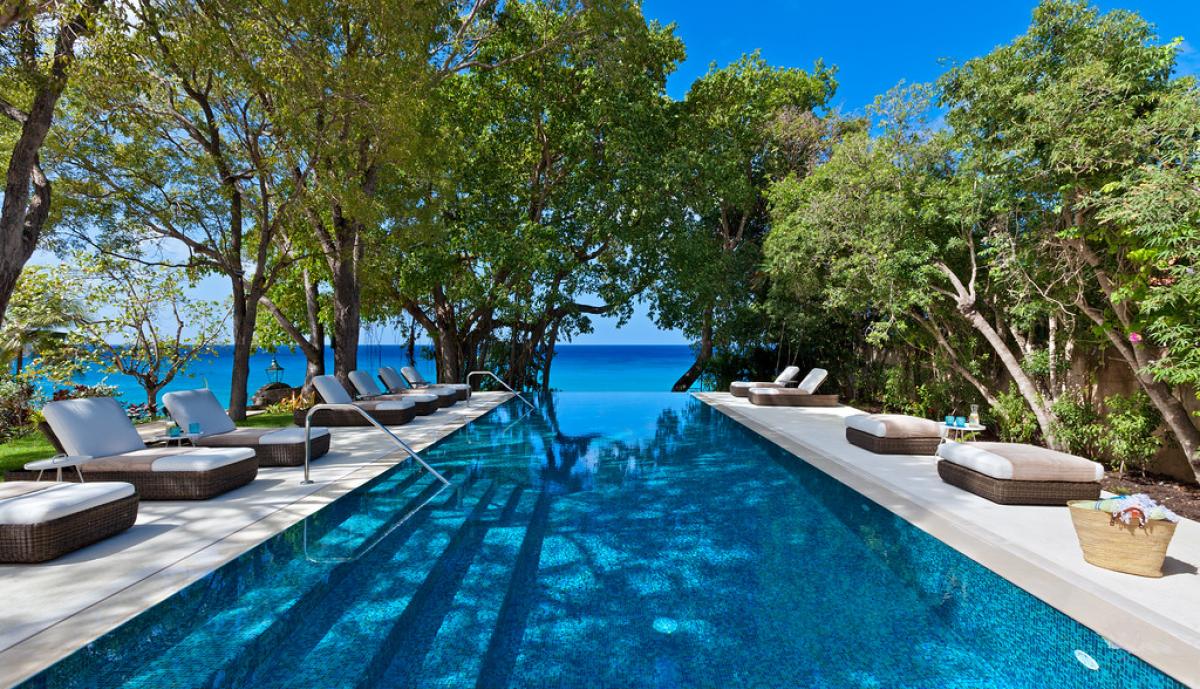 Crystal Springs is a stunning 10 bedroom villa on the beach on the West Coast of Barbados. It
is one of the most romantic villas in Barbados. Designed by world acclaimed Oliver Messel, Crystal Springs has been beautifully renovated. With trompe d'oeil, its own beach and use of boat it is set in lush gardens with it's own waterfall. Just steps away from the beach and so close to all the local amenities!
Crystal Springs offers 10 bedrooms and sits on 1.7 acres of beachfront estate. It offers accommodation for up to 20 guests.
Crystal Springs is located between Speightstown and Holetown. It is in an ideal postion for shopping. It is also just a short drive to golf and tennis at Sandy Lane or Sugar Hill.
It is set right above the Caribbean Sea amongst landscaped mature gardens. It has fountain pools and waterfalls. The views directly overlook the crystal blue Caribbean sea and a white sandy beach. The beach is just a few steps down.
There are few Barbados luxury villas to match the luxury, charm and romantic ambience of Crystal Springs.
These are just a few of out Barbados luxury villas to rent.
Our team in Barbados and in the UK will be happy to help find the best villa for your requirements. We have a large selection of Barbados luxury villas and can source any Barbados luxury villas that you might see on any other website.
Contact us today for further information on Barbados luxury villas.
For long term rentals in Barbados visit longtermrentalsbarbados.com
For holidays in Barbados visit barbadosdreamvillas.com