Large properties for sale on the beach Barbados
Large Properties for sale on the beach Barbados
If you are looking for large properties for sale on the beach Barbados then look no further.
Whilst many of the large properties for sale on the beach Barbados have sold we still have some available for sale.
Here are some of the properties available for sale.
Nelson Gay US$18,000,000
Floor Area:
5,000 sq ft sq ft
Land Area:
66,309 sq ft sq ft
Nelson Gay is a classical masterpiece. Built in the finest colonial style, Nelson Gay makes the most of probably the best location on the much sought after west coast of Barbados. It is an elegant coral stone Palladian mansion that sits on nearly two acres of prime beach front real estate.
This 8 bedroom home is nestled amongst beautiful mature gardens. It is located next to the celebrated Cobbler's Cove Hotel, This house is one of Barbados' best kept secrets. It sits on a half-mile crescent of pristine coral sand.
Nelson Gay has been refurbished and presents well. It has new floors in the master bedrooms, new telecoms and new TV audio-visual facilities in the media room. There is a new chattel house with its own bathroom and kitchenette and new plantings in the amazing gardens.
Nelson Gay has always been famous for its lush gardens. There is excellent swimming in the sea immediately in front of house. The accommodation is on one level. The pool is magnificent and is one of the few pools in Barbados that is heated.
The spacious living room is a central point, with 14ft high ceilings. These open up onto an 80ft terrace overlooking the pool, garden and sea.
There is an incredible swimming pool (50ft x 12ft x 4.5ft deep. This is tiled in green mosaic and located in the centre of the garden.
At the end of the garden is a half mile of pristine, sandy beach. There is a reef to one side which is ideal for snorkelling. There is also a large area immediately in front of the villa. This is roped off with buoys for safe swimming.
At night the garden takes on another identity with the new spectacular garden lighting.
Nelson Gay is just a few minutes drive from historical Speightstown. Here you will find a supermarket, banks, bars and restaurants. It is a delightful unspoilt town. Holetown is just 15 minutes drive away. Here you will find duty free shopping and many other amenities.
Golf, tennis and polo are all within a short drive.
Historical, characterful houses like Nelson Gay rarely come to the market.
If you are interested in Nelson Gay contact us today
If you are interested in other large properties for sale on the beach Barbados contact us today
Cove Spring House Price on application
Land Area:
56,628 sq ft sq ft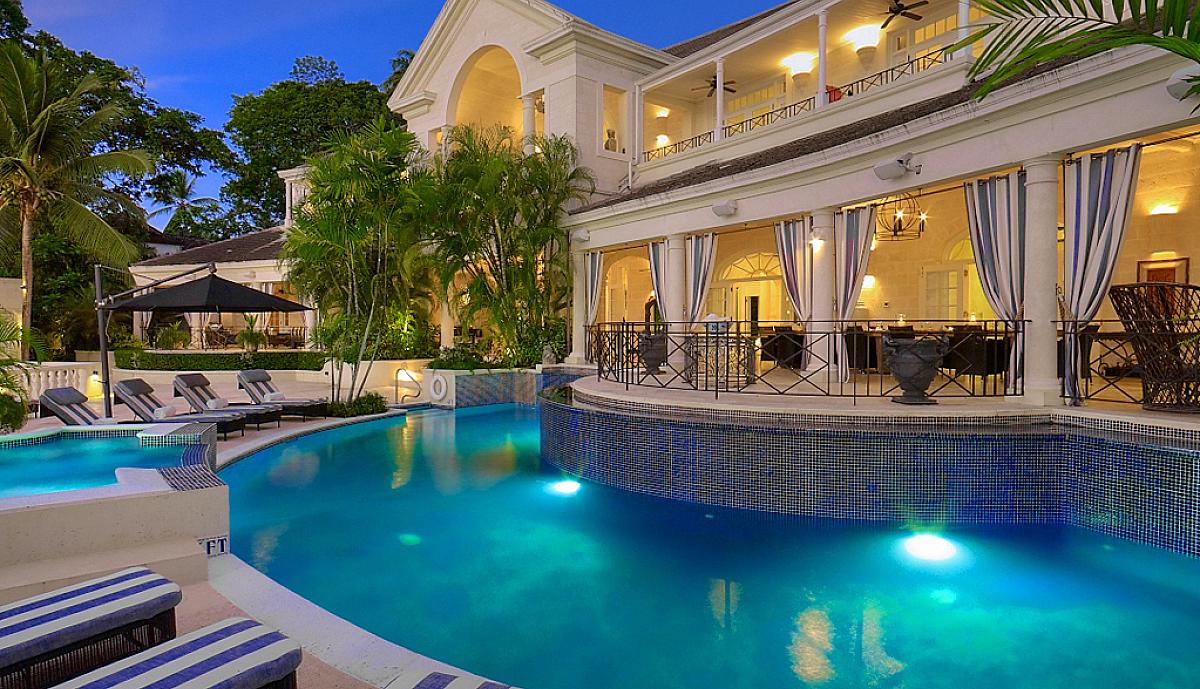 Cove Spring House in Barbados is the ultimate sanctuary. Perfect for anyone seeking privacy, peace, direct access to the calm Caribbean sea and the privacy of luxury villa living. Cove Spring House is a magnificent 10 bedroom villa located in a fabulous ocean front location. There are 7 spacious bedrooms in the main house and 3 bedrooms in a seperate villa. Four of the bedrooms have Jacuzzi baths. All the bedrooms are air conditioned and fully equipped. Each has its own direct dial telephone, television, DVD and cable as well as WiFi throughout the bedrooms and property.
The house straddles two rocky limestone bluffs that has a small sandy beach between them only accessible from the house or by boat. There are lots of areas to dine in or spots to escape and read a book whilst gazing out to sea.
Cove Spring House is beautifully furnished with linens and furnishings from renowned designers such as Ralph Lauren. There are Indonesian day beds, luxury double Thai loungers and furniture from various parts of the world.
The House has a lovely bar for sunset cocktails which are glorious on the west coast of barbados.
There is also a large cinema room, a state of the art fitness centre and a large half moon swimming pool and jacuzzi to be enjoyed.
There is so much space indoor and outdoor for Spa services, yoga and personal training in private and unique settings.
Located in the an area known as "The Garden" in the parish of St James it's just a few minutes from everything from Golf, tennis, water sports, shopping, the best restaurants on the Island and all the amenities of nearby Holetown.
Cove Spring House is one of the finest villas on the Barbados. It been host many famous guests and film stars. Many have returned year after year.
Cove Spring House is an ultra luxury property. There are few to match it in style, location and architecture. It is the epitome of luxurious Caribbean living.
If you are interested in purchasing Cove Spring House contact us today
For a holiday rental in Cove Spring House or another home in Barbados visit barbadosdreamvillas.com
If you are interested in other large properties for sale on the beach Barbados contact us today
Portico 5 and 6 £8,950,000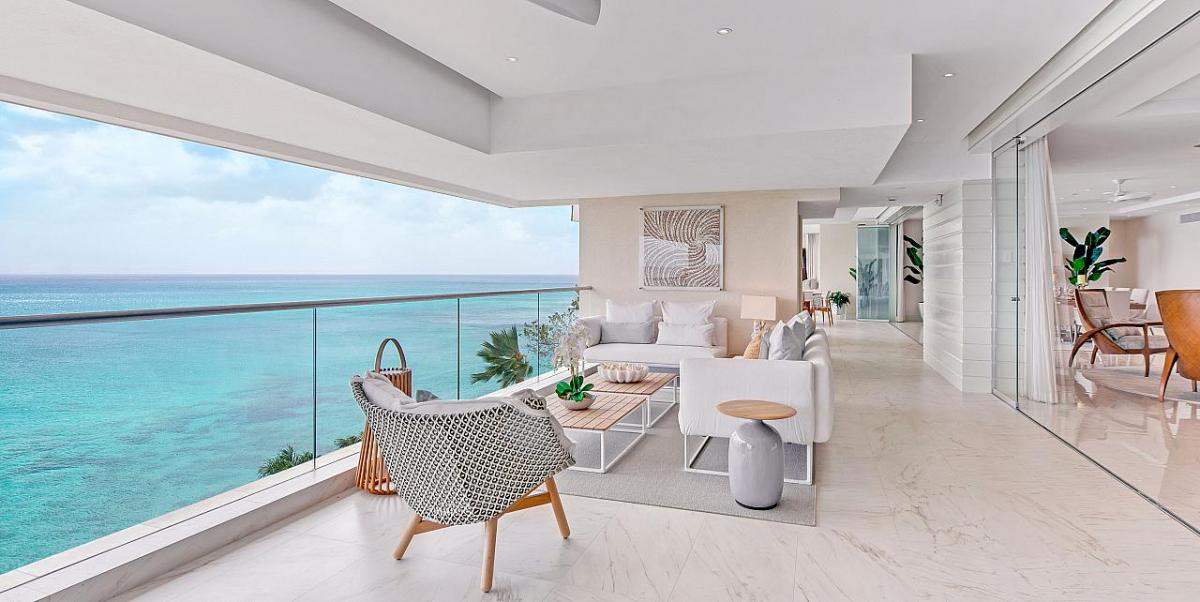 Property Size:

7300 sq ft
Portico 5 and 6 is also known as 'Tigre del Mar'. This double apartment is located in the Portico development on the west coast of Barbados.
The development is winner of 3 prestigious, 5 star International Property Awards. These were for Best Architecture, Best Development and Best Apartment in the Caribbean.
Portico is distinguished by its outstanding finishes and revolutionary design. It has been designed with a modern take on island living.
It is located on the serene and picturesque Prospect Bay Beach. This is in St. James Barbados. Portico is a true personification of sophistication. It offers state of the art living. It is distinct from any other residential development on the island's west coast.
These two units 5 and 6 have been uniquely combined to create 6 bedrooms. The combined units offer 7,300 sq. ft. of space. This apartment offers modern Caribbean luxury living.
Tigre del Mar has been exquisitely re-designed, renovated and outfitted. It has been furnished with the finest furnishings. It was designed and furnished by some of the island's leading designers. The very best architects and craftsmen were involved. It is now one of the finest beachfront homes in Barbados.
Portico 5 and 6 offers expansive uninterrupted sea views. It enjoys unparalleled privacy and serenity. This comes from occupying the entire floor of this award-winning building.
This apartment is one of the most exclusive and stylish beachfront apartments in Barbados. It is located on the celebrated Platinum Coast.
Owners have direct access to a secluded beach via the in-home elevator. The impeccable architecture is perfectly attuned to contemporary Caribbean living. Portico 5 and 6 is the ultimate place to retreat. It enjoys absolute tranquility.
There is an impressive array of community amenities. These include five-star concierge services and 24/7 security.
Its facilities offer residents the best that innovation has to offer.
The development's extraordinary architecture makes way for a lifestyle that will be enjoyed by a select few.
The building has a tropical modern style. It was conceptualized to merge the interior living space with the property's stunning exteriors. There are glass balustrades and ample windows. These offer uninterrupted views of the stunning Caribbean Sea.
Early viewing is recommended.
The property is just minutes by car away from Holetown. This is the hub of the west coast. Here you will find a large supermarket, banks and a medical centre. The Lime Grove Shopping Centre is in Holetown. This offers duty free shopping and cinemas. There are also an array of bars, cafes and restaurants in Lime Grove.
Some of the best restaurants on the west coast are just minutes away by car.
If you are interested in Portico 5 and 6 contact us today
If you are interested in other large properties for sale on the beach Barbados contact us today
Platinum Bay Price on application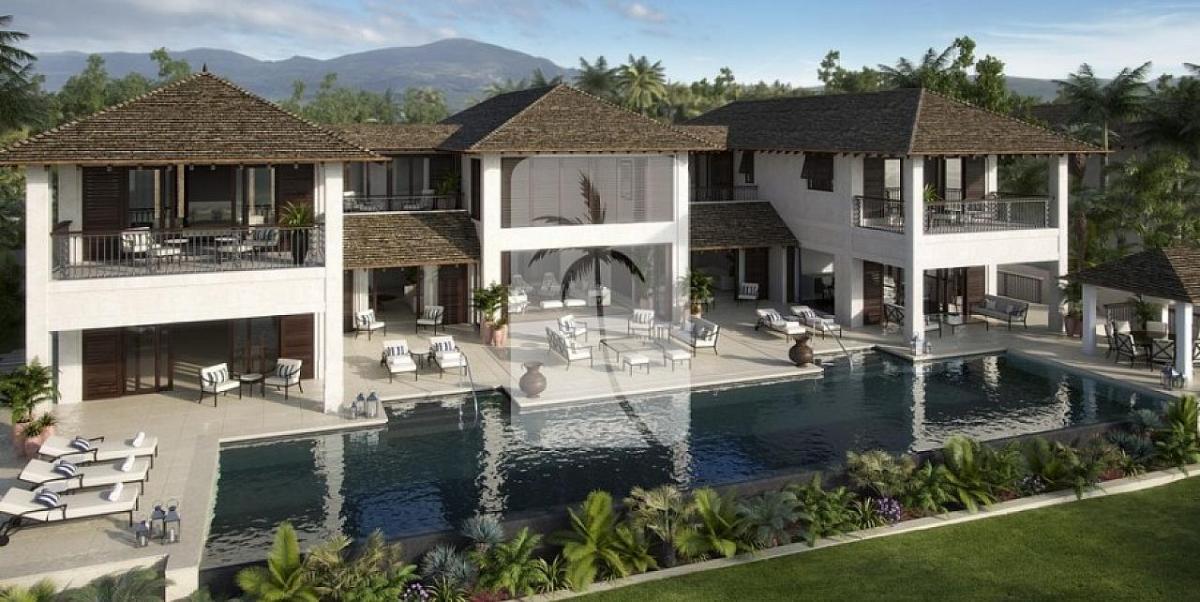 Property Size:

19500 sq ft
Platinum Bay will comprise five detached villas. Each will enjoy direct beach access and exquisite views of the ocean. It is a new ultra luxurious development, desirably situated on the Platinum Coast.
Ranging between 15,000 and 19,500 sq ft, each custom designed villa in this enviable location has been carefully designed to respect the environment.
All villas will offer elegant spaces which are ideal for relaxed living and stylish entertainment. For those wanting to unwind, each of these beautiful villas will sit within tranquil gardens with access to its own private pool.
At Platinum Bay you can enjoy the absolute privacy and security of your own personal oasis. Alternatively you may choose to explore the superb shopping, leisure, dining and sporting opportunities of the West Coast. Life at Platinum Bay will be made even more appealing by the 24/7 five star concierge and management services. Their aim is to take care of your every need.
The impressive architecture of each villa will provide column-free internal spaces and uninterrupted sea views from the rooms. External walls will be finished with a coral stone which is further complimented by the timber shingle roofing. These will be finished with copper rainwater goods.
The Grand master suite will be indulgent with a spectacular sea-view, solid timber flooring and over-sized walk-in closet. This will be fitted with locally crafted bespoke hardwood cabinetry and double en-suite bathrooms with high-quality marble finishing.

Other pertinent features of these remarkable luxury homes will include a family kitchen. There will also be a staff kitchen and utility room. locally There will be a formal indoor dining area, outdoor dining gazebo and breakfast room. These will provide ample dining-in options.
The villas will also offer large outdoor areas for relaxation. There will be a limestone floor pool deck suitable for alfresco dining, sunbathing and entertaining. The private fresh-water swimming pools range from between 18m to 20m.
If you are interested in Platinum Bay contact us today
For other large properties for sale on the beach Barbados contact us today
This is a small selection of our large properties for sale on the beach Barbados.
For other large properties for sale on the beach Barbados contact us today or visit barbadosdreamproperties.com
For long term rentals in Barbados visit longtermrentalsbarbados.com
For holidays in Barbados visit barbdosdreamvillas.com